Dalmatian Insurance

Get 32.5% Pet Insurance discount with our combined Bought By Many member & online discount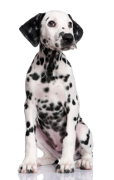 Athletic, playful and highly energetic, the Dalmatian is a popular companion, especially with owners and families who enjoy a more active lifestyle. With their unique and unmistakable markings, they are surely one of the most instantly recognisable of all dog breeds.
These spotted champs have famously starred in a shaggy dog story all of their own: One Hundred and One Dalmatians. Perhaps less well known is the fact that the wicked Cruella de Vil isn't an entirely made up character. Dodie Smith, author of the original book (on which several films were based) and herself the owner of nine Dalmatians, took inspiration from a 'friend' who once remarked: "those dogs would make a lovely coat…"
Some Dalmatians, particularly older males, may have difficulty processing uric acid in their livers, leading to hyperuricemia (abnormal levels of acid in the blood) or hyperuricosuria (abnormal levels in the urine). You should keep an eye on your Dalmatian to ensure that they are urinating regularly and without difficulty. A plentiful supply of fresh drinking water is essential, and your vet can advise on the best diet plan.
By joining this group you use the buying power you share with other Dalmatian owners to get a better deal on insurance. There is an offer currently live for members now - please join the group to find out more.