Cruise Holiday Insurance

Join other holiday makers to get 10% off your cruise holiday insurance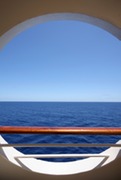 Whether it's a 3-day cruise of the Mediterranean or a 2-week tour of the Caribbean, a cruise is a great way of taking in multiple locations, without having to endure arduous train, bus or plane journeys. Instead, you get to relax in luxury and enjoy the various activities, entertainment and fantastic food that the ship has to offer.
That said, like with any other type of holiday, things can go awry, and so it is best to be fully covered. This is particularly the case with cruise holidays, as you can fall ill thousands of miles from the nearest mainland medical facilities.
Cruise holiday insurance covers you for various possible eventualities, including medical expenses, cancellation, missed port departure, cabin confinement, cruise interruption, excursions and your belongings and baggage.
By joining this group, you club together with other cruise holiday makers to get a discount on your insurance.