Cornish Rex Pet Insurance

Join other UK Cornish Rex owners to demand a fairer deal from pet insurance companies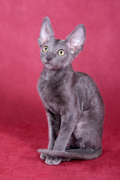 Thought to have the finest and softest hair in the cat kingdom, the Rex is a sleek feline with a very thin coat. They can sometimes have slightly curly hair, hence the name "Rex", which has been used to denote curly hair in an animal since the late 19th Century – after a flamboyant King Albert I of Belgium shocked the pet world by entering some curly-haired rabbits in a show.
The Cornish Rex originates from Cornwall, of course, and will often be seen nuzzling up to computer monitors, radiators, oven doors, agas or anything that gives off heat. Despite having a slightly higher body temperature than most other cats, that fine coat means that they are better suited to indoor living and run the risk of hypothermia If left outside for too long.
If it's companionable and homely you're after, then this is your cat.
By joining this group you use the buying power you share with other Rex owners to get a better deal on insurance. Currently, there is an offer available with MORE TH>N, so please join the group to find out more.