Coach House Insurance

Join other coach house freeholders to get a great deal on home insurance for coach houses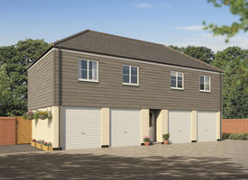 Coach houses are notoriously difficult to insure, mainly due to complications with liability.
Coach houses usually come in groups of 3 (sometimes 4). They are built over 3 floors, the ground floor being a row of garages. Usually one home owner owns the freehold for the entire building, including all the garages, while the other home owners simply have use of their allocated garage (usually on a 999 year peppercorn lease).
Insurers find these properties complicated to insure, as owners have no way of knowing what the conditions are of the garages their house is built on, or whether there are any dangerous or volatile items stored in those garages. There is also the blurred line of personal vs. business insurance, as, for all intent and purpose, the owner of the freehold acts as a landlord for the garages of the leaseholders. As a result, many household name insurance companies won't offer buildings and contents insurance for coach houses.
We think it is unfair that owners of coach houses struggle to find insurance for their properties. It is important for all home owners to be able to get a fair deal on their insurance, which is why we started this group.
By joining this group, you club together with other coach house owners to get a great deal on home insurance for your property, including any garages you own the freehold for.