Coach House Insurance

Join other coach house freeholders to get a great deal on home insurance for coach houses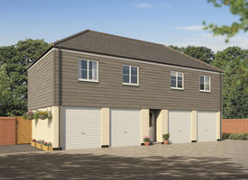 Coach houses are notoriously difficult to insure, mainly due to complications with liability.
Coach houses usually come in groups of 3 (sometimes 4). They are built over 3 floors, the ground floor being a row of garages. Usually one home owner owns the freehold for the entire building, including all the garages, while the other home owners simply have use of their allocated garage (usually on a 999 year peppercorn lease).
Insurers find these properties complicated to insure, as owners have no way of knowing what the conditions are of the garages their house is built on, or whether there are any dangerous or volatile items stored in those garages. There is also the blurred line of personal vs. business insurance, as, for all intent and purpose, the owner of the freehold acts as a landlord for the garages of the leaseholders. As a result, many household name insurance companies won't offer buildings and contents insurance for coach houses.
We think it is unfair that owners of coach houses struggle to find insurance for their properties. It is important for all home owners to be able to get a fair deal on their insurance, which is why we started this group.
By joining this group, you club together with other coach house owners to get a great deal on home insurance for your property, including any garages you own the freehold for. We've negotiated an offer with Home Protect giving members 7.5% cash back on home insurance for their coach house – please join the group to find out more.
Community questions and answers
Answers: 3
Helpful Votes: 1
Utterly pointless. You say they offer coach house insurance - but it doesn't appear as an option on the website. Phoned up (as others have suggested) and took ages for them to pick up and am paying for the call outside normal minutes on mobile as it is an 0330 number - not exactly helpful. Finally got through to someone who was very friendly. She suggested I enter information online using semi-detached and then call them back so that they could refer to an underwriter as it is a coach house - err isn't that the whole point of what you're trying to offer? Anyway - half way through entering info on website it decided to forget everything so I had to start all over again. Called again waiting for someone to pick up. Someone finally picked up, took my number and said they'd call me back. Utterly useless product and service - and that's a polite way of putting it.

Good afternoon Kam, thanks for getting in touch. I am really sorry to hear you had a bad experience with this deal. Based on your feedback we are assessing this group and will see what we do with it going forward. Thank you for taking the time to leave feedback, it really is valuable, and we always want to know where the service is failing. Thanks again, and I am sorry for the time you felt was wasted. Kind regards, Heidi

Kam, I raised this problem with Bough By Many a year ago as I had the same problem. Try Home Shield Insurance Services Ltd 0800 612 2007. They were very competitive compared to my previous insurers. Note to Bought By Many Either sort this problem out or remove the fact that you offer Coach House Insurance when you clearly don't.
Answers: 9
Helpful Votes: 3
I tried the online quote but there is no drop down for coach house. I own the freehold of whole building and 3 garages are let on 999 year lease and I own the other garage. I typed in purpose built first floor flat but it was not appropriate as there was nowhere to add the garages. Can anyone help?

Many thanks for your comment. I suggest you give Home Protect a call on 0845 155 1944, and we will look into the issue with the online form separately. Best wishes, Sam

Hello Sam. I have emailed Home Protect and will let you know when they reply. Thanks.

Not impressed. No email. It seems they do not insure detached freehold coach houses.

I'm sorry to hear you haven't had a reply yet. It might be better to call them as they are primarily a phone-based business. I'm afraid both our main contact at Home Protect and David (who manages the relationship on our side) are away on holiday this week - but I will ask David to follow up with them on his return on Tuesday.

Still no news? I am going to write adverse comment about lack of professionalism and fact that they do not offer insurance on freehold detached coach houses.

Hi, Firstly I'm sorry that this has taken so long to get a reply - we've been waiting for confirmation from Home Protect which we now have. They have confirmed that they will insure coach houses, only they have not yet updated their website to allow you to select 'coach house' as your type of property. The solution is therefore to call 0330 660 1000, speak to a sales agent and request a brand new quote. The agent will take you through the process. If you then decide to buy the policy, we need to arrange your cash back. Please inform us of your policy number via support@boughtbymany.com and we organise Home Protect to make the payment. I hope that helps but do get in touch again. Let us know if the quote works out! David

David thank you for your reply. I could not wait for Home Protect but instead received and accepted a very competitive quote from: Home Shield Insurance Services Ltd 0800 612 2007 This might help others in my position.

Thanks for letting us know Law and glad you could get cover. In our testing Home Protect were competitively priced, but if we continue to get member feedback that suggests Home Shield offer a good product, we'll investigate the strengths of their offering too. All the best, David