Chow Chow Pet Insurance

Join other UK Chow Chow owners to demand a fairer deal from pet insurance companies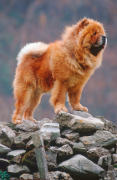 If you've ever suspected that dogs are more intuitive than humans, you will be pleased to learn that this is a case of great minds thinking alike: your suspicion was shared by Dr Sigmund Freud, founding father of psychoanalysis and proud owner of a wise, handsome Chow named Jofi.
Jofi would often sit in on therapy sessions. If at any point she scratched at the door to be let out, Freud would say to his patient, "Jofi doesn't approve of what you're saying." And if she wanted back in, he'd say, "Jofi has decided to give you another chance." At one point Jofi even jumped into the lap of a particularly emotive patient, causing Freud to exclaim: "You see, Jofi is so excited that you've been able to discover the source of your anxiety!"
As well as being wise (and very handsome), the chow is protective, loyal, quietly content and generally well-behaved – if occasionally a little stubborn when it comes to training. Chows don't need a huge amount of exercise, but a moderate daily amount is important to ensure that they don't become bored or restless.
Whether your Chow has a short and smooth coat, or a rougher and longer coat, they should be brushed regularly: especially when shedding, which usually happens in spring and autumn. A monthly bath is also recommended to prevent fleas – and to keep that gorgeous coat looking healthy and colourful.
By joining this group you use the buying power you share with other Chow owners to get a better deal on insurance. Currently, there is an offer available with MORE TH>N, so please join the group to find out more.