Cavalier King Charles Spaniel Pet Insurance

Join other UK Cavalier owners to get 10% discount on Lifetime Pet Cover insurance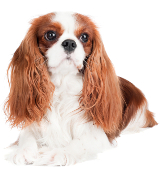 About Cavaliers
It is no coincidence the Cavalier King Charles Spaniel was given such a regal name. The breed has always been a favourite with the royal family.
Mary Queen of Scots, King Charles the 1st, King Charles the 2nd (who was known as the 'Cavalier King', which gave the breed its name), James the 2nd, John Churchill the 1st Duke of Marlborough, Queen Victoria and Princess Margaret were all self-proclaimed enthusiasts of the breed and its earlier variation. These beautiful little dogs were established in the 1600s by breeding King Charles Spaniels with Pugs, which made them smaller and gave them flatter noses.
It's not just those with blue blood who love Cavaliers, but film and TV royalty as well. Famous owners, past and present, include Frank Sinatra, Courtney Cox and David Arquette, Liv Tyler, Lauren Bacall, Sylvester Stallone and Mickey Rooney, amongst others. And, of course, who can forget Sex and the City's Charlotte's adorable pooch, Elizabeth Taylor?
Why buy pet insurance for your Cavalier King Charles Spaniel?
Happy, affectionate and outgoing dogs are intelligent and easy to train. They get along well with other dogs and pets, and love the company of humans. Health wise, they are prone to syringomyelia, luxating patellas, hip dysplasia, mitral valve disease (MVD) and eye problems, such as cherry eye. Pet insurance can help with the cost of treatment for these and other conditions affecting your Cavalier.
Why join the Cavalier King Charles Spaniel Insurance group?
By joining this group, you club together with other Cavalier owners to get the best deal on pet insurance for your royal companion.