743 Members
Please call for a quote None
Cat Insurance for Cat Breeds

Join other pure breed cat owners to get demand a better deal on insurance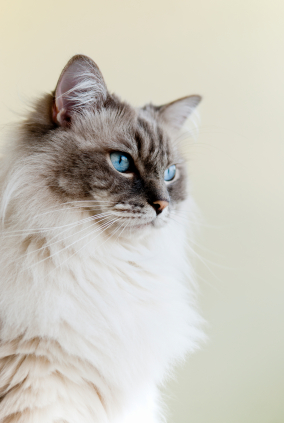 There are a number of things about purebred cats which affect how they need to be insured, so we've created this group to help owners use their combined buying power to get the best cat insurance.
Firstly, many breeds of cat are popular choices as house cats - Ragdoll and Russian Blue being good examples. Because these cats spend all their time indoors, they are less likely to pick up infectious diseases, require vet treatment for injuries, or to go missing.
Secondly, the breeding process can lead to cats having a predisposition to develop certain medical conditions. For example, some lines of Persian cats have high incidence of kidney and heart problems, while Siamese and Abyssinian cats are more likely to end up at the vet with eye and ear issues. It's important that these conditions are not excluded from cat insurance policies.
Finally, purebred cats often represent a material financial investment. Very few people are in the market to spend £17,000 on a hypoallergenic Ashera cat (a Savannah hybrid), but buying a kitten from a breeder is not cheap and usually costs several hundred pounds. So, replacement costs do need to be taken into consideration.
By joining this group, you club together with other pure breed cat owners to demand a better deal on pet insurance for your companion.
Please call for a quote None
Top questions answered by us
I have multiple cats. How can I reduce my cat insurance cost?

4 in 10 cat owners have more than one cat, and it's not uncommon for breeders to look after 10 or more cats, so it's surprising that more cat insurance companies don't tailor their insurance policies. Our intention is to agree an additional discount for members of this group who need to multiple cat insurance.

Which breeds can join this cat insurance group?

At the moment, the group is focused on the most popular cat breeds in the UK. These are listed below, but please contact us if you have a different breed of cat and would like to join the group.

Abyssinian, Asian, Australian Mist, Balinese, Bengal, Birman, Bombay, British Blue, British Shorthair, Burmese, Burmilla, Cornish Rex, Devon Rex, Egyptian Mau, Himalayan, Khao Manee, Korat, LaPerm, Maine Coon, Manx, Munchkin, Nebelung, Norwegian Forest, Ocicat, Oriental, Persian, Ragamuffin, Ragdoll, Russian Blue, Savannah, Siamese, Siberian, Singapura, Snowshoe, Somali, Sphynx, Tiffanie, Tonkinese, Toyger

Why do people buy pet cat insurance?

Pet insurance for cats in the UK typically gives owners and cats protection from the financial impact of unexpected vet bills and boarding fees. It can also provide help with the costs of advertising to find missing cats.

Why is pet Insurance for older cats more expensive?

The cheapest pet insurance for cats does tend to be for younger cats - particularly kittens under the age of 2. Older cat insurance is usually more expensive simply because as the probability of illness leading to a need for vet treatment increases as cats get older - particularly when they are over the age of 8 and classed as "senior". Buying lifetime cat insurance when your cat is younger can be a way of reducing the cost of insurance in future.

Where can I compare cat insurance?

What are the most popular cat insurance UK companies?