Career Advisor Insurance

Join forces with other Career Advisors to get a better insurance deal for your business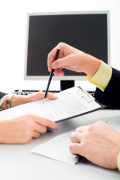 In the last few years, the way career advice is provided has changed dramatically for various reasons, including government policy, economic climate and the rising popularity of the internet.
The responsibility to provide career advice to young people changed from local government to schools in 2011 and, with the economic downturn, many older people have looked for advice on what their next step should be. Additionally, multiple career advice resources are now available online, and some people are even looking to the entertainment industry to help them choose a direction in life.
These changes mean that many career advisors are now working on a freelance basis, and, as such, are responsible for all aspects of their business, including insurance. In this volatile job market, when people have so much to lose, giving the wrong advice to a client can be financially and professionally devastating.
By joining this group, you join forces with other career advisors to get the best deal on business insurance, leaving you free to deliver the best advice to help people maximise their potential.
Top questions answered by us
What are the issues that might lead to a legal claim against a Career Advisor?

You are recommending certain decisions and choices to people and so, if a client experience any form of loss or difficulty as a result of a path you recommended, they might hold you responsible. Additionally, as a Career Advisor, you have access to people's sensitive information, including education and employment records. If you inadvertently break confidentiality or data protection laws, action can be taken against you.

What types of insurance do Career Advisors need?

Professional Indemnity Insurance for Career Advisors (sometimes called PI Insurance), protects against lawsuits by clients who are harmed as a result of professional negligence or malpractice. Career Advisors' Public Liability Insurance is needed in case a client hurts themselves at the Career Advisors' business premises (whether at a home-based office or a separate location); it also covers you if your client's own home is damaged as a result of your business. You can also get stock insurance, to cover any stock or money you keep at your business premises, as well as building insurance for the premises (if applicable). Lastly, you can be covered for loss of income through business interruption, if you are unable to practice as a result of illness or damage to your business premises.
Community questions and answers