Camera Cover for Travel

Join other keen photographers to get a good deal on insurance for your camera and accessories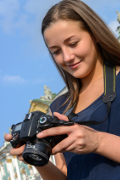 To today's teenagers, it may seem that the invention of photography was a happy-but-unintended by-product of smartphone technology. In fact, the humble photograph's journey began with the ancient Greeks, who wrote of naturally-occurring pinhole 'cameras' (for example, light travelling through the slits of a wicker basket, subverting a reflected image or scene). It is unknown whether the great philosophers who recorded these events, such as Aristotle and Euclid, foresaw the eventual rise of the 'selfie'.
But whilst smartphone-cameras are undoubtedly becoming more sophisticated, and can be great for taking casual snaps, the keener photographers among us will always prefer traditional cameras. There are many good reasons for this: optical zoom, larger sensors, interchangeable lenses, fast shutter speeds, a wider variety of shooting modes and – by no means least – full, manual control of the shot.
Good cameras are expensive, however – particularly so when factoring in all the potential accessories that make them so versatile. So if you're planning to take yours with you when you travel, it really is in your best interests to have everything covered. Sadly, there's no country in the world where thieves don't exist; and cameras are high up in the list of most commonly-reported stolen items. However careful you are, there's also the risk of losing or damaging your camera (and/or its accessories).
By joining this group, you can take advantage of our exclusive policy with i-Digital, and put your mind at rest knowing that:
• The insured Gadgets are covered abroad for up to 90 days in a calendar year
• You are covered for theft, accidental damage or loss and breakdown
• You can cover multiple gadgets on one policy and get an increasing discount the more you insure* (note that each lens is considered a separate item from the camera body - i.e. a camera with a wide-angle and a telephoto lens would mean 3 gadgets)
And if you have friends who value their camera equipment as much as you do, why not invite them to join the group too?