Cairn Terrier Insurance

Join other UK Cairn Terrier owners to demand a fairer deal from pet insurance companies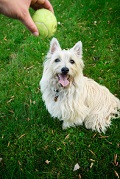 Loyal and lovable, adventurous and affectionate, it's not hard to understand why Cairn Terriers are often referred to as 'the best little pal in the world'. A big dog personality hiding in a small dog's body, Cairns are great with kids, appreciate lots of attention whilst requiring little in the way of maintenance, and have those gorgeous shaggy coats (which is where that little bit of maintenance comes in).
It was of course a Cairn, the wonderful Terry, who captured so many hearts with her starring role as Toto in the Wizard of Oz (an honorable mention here to Judy Garland for her understated performance as Toto's sidekick, Dorothy). Fans of comedian Paul O'Grady will also be familiar with his twinkly-nosed companion Olga who, when she isn't delighting us on screen, is happily yipping away on her own Twitter account.
Generally, Cairns tends to be a healthy breed. There are, however, a number of hereditary health problems to which Cairns are particularly susceptible; such as Cataracts, Ocular Melanosis and Krabbe Disease – all of which can require extensive and costly treatment. So when it comes to your best little pal, we think they deserve the best insurance.
By forming this group, we'd like to help you use the collective buying power you share with other Cairn owners to negotiate a better deal on pet insurance. Already, we've negotiated a special offer on pet insurance for Cairn Terriers with MORE TH>N - so please join the group to find out more.