British Bulldog Insurance

Join other UK Bulldog owners to demand a fairer deal from pet insurance companies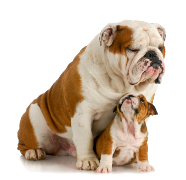 The Bulldog has long held a place in our nation's hearts. They are often referred to as British Bulldogs, or just Bulldogs, and wherever you see a mug, postcard or beach towel bearing the Union Jack – you're just as likely to see a prime example of the breed.
Why buy pet insurance for your Bulldog?
Bulldogs can be very sensitive to heat and find it difficult to keep their bodies cool because of their small nasal cavities. And while Bulldogs are not the most hyperactive of dogs, they do need regular daily exercise otherwise they are prone to becoming overweight, which can lead to a number of health problems.
Pet insurance also covers your Bulldog from any unexpected injuries or general ill health.
Why join the British Bulldog insurance group?
We believe that all dogs deserve fairer insurance but Bulldogs are one of the most expensive dogs to insure. By joining Bought By Many you can use the collective buying power of other Bulldog owners in the group to get a better deal. We've negotiated an exclusive 20% discount with MORE TH>N for our Bulldog owners.
Join the group to find out more and get a quote with your discount applied. There's an even bigger discount if you're insuring multiple dogs.
Learn more
Find out more about insurance with our guide to the best pet insurance for dogs.