British Bulldog Insurance

Join other UK Bulldog owners to demand a fairer deal from pet insurance companies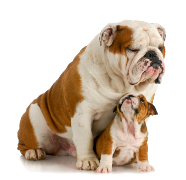 The Bulldog has long held a place in our nation's hearts. They are often referred to as British Bulldogs, or just Bulldogs, and wherever you see a mug, postcard or beach towel bearing the Union Jack – you're just as likely to see a prime example of the breed.
Why buy pet insurance for your Bulldog?
Bulldogs can be very sensitive to heat and find it difficult to keep their bodies cool because of their small nasal cavities. And while Bulldogs are not the most hyperactive of dogs, they do need regular daily exercise otherwise they are prone to becoming overweight, which can lead to a number of health problems.
Pet insurance also covers your Bulldog from any unexpected injuries or general ill health.
Why join the British Bulldog insurance group?
We believe that all dogs deserve fairer insurance but Bulldogs are one of the most expensive dogs to insure. By joining Bought By Many you can use the collective buying power of other Bulldog owners in the group to get a better deal. We've negotiated an exclusive 20% discount with MORE TH>N for our Bulldog owners.
Join the group to find out more and get a quote with your discount applied. There's an even bigger discount if you're insuring multiple dogs.
Learn more
Find out more about insurance with our guide to the best pet insurance for dogs.
Community questions and answers
Answers: 1
Helpful Votes: 0
I got a great price for my pair of Bulldogs in January 2015 from More Than using Bought By Many deal. But now it's time to renew More Than have doubled my premium and this offer doesn't make a difference. They justify the renewal price because I made a £400 claim for one of the dogs for a course of cortisone injections to treat a limp. I'm really disappointed and will have to either cancel my insurance with them and become a new customer (losing any cover for pre-existing conditions i.e. if the same leg plays up she won't be covered) or find a new insurer. Have you got any plans to offer bulldog deals with other insurers? Thanks.
Answers: 1
Helpful Votes: 0
Does this include alpha blueblood bulldog
Answers: 2
Helpful Votes: 1
My current policy is about to expire with More Than. The life cover policy was £46 per month. Lola Our bulldog pup is now one year old and during her early months according to the vet suffered an arthritic infection. More Than have decided to increase the annual premium by +90% to £86 per month based on their breed analytics. On principal would recommend boycotting this insurance operator

I am really sorry to hear that Tom. We have been on the look out for an insurer to look after a group of Pets with pre existing conditions to be able to give people an alternative option rather than having to stick with the same insurer! I am sorry you have been disappointed with the service offered by them. I hope your Bulldog is doing ok!