Please call for a quote None
Brexit Insurance

Will you need a payout if the UK votes out?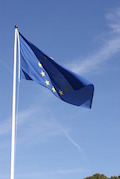 Bought By Many is launching this group on April 1, less than 12 weeks ahead of the EU referendum, to bring together people concerned about the UK leaving the European Union, so that we can potentially negotiate an insurance offer for them.
We aim to find fairer insurance for consumers by grouping people with the same needs so that we can use their combined buying power to negotiate exclusive deals with insurers. For example, we have groups for owners of British Bulldogs and English Mastiffs.
With the EU referendum looming on June 23 we're aware that many people are worried about the impact of a Brexit and may want financial cover.
The insurance could be used to cover the costs of repatriating British citizens who face being expelled from their sun-soaked villas on the Med. Or pay for pet passports for all the cats and dogs that will find it more difficult to cross borders on their holidays.
And for EU nationals who don't want to leave the UK, a payout could go towards classes that will put them on the path to gaining citizenship here. We've already been flooded by requests from Eastern European plumbers who want lessons in the nuances of Maypole dancing and the differences between drizzle and a rain shower.
We may need to negotiate a higher level of cover for professional footballers, whose crucial skills could be lost if they are forced to flee Britain's stadiums in the face of filling out work permits.
Managers are anxious as well. Huus Giddink said: "EU players fill a gap in the workforce. British players just aren't trained in these techniques any more or they don't want a dirty, multi-million pound job in the Premier League."
And a national newspaper editor said that even though he's campaigning for a Brexit he'd like some cover for the EU subsidies he could lose.
Bought By Many is also considering creating a group for people concerned there will be no Brexit.
One London mayor, who wishes to remain anonymous, told us he's interested in insurance in case he's out of a job if the UK retains its ties with Europe.
If you would like us to source a deal on Brexit insurance, join this group to add your name to other consumers terrified of the financial implications of abandoning our continental neighbours.
Please call for a quote None