Boxer Pet Insurance

Join other UK Boxer owners and get £15 cashback on your pet insurance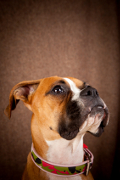 About Boxers
Devoted, athletic and ever at the ready, Boxers have a proven track record as good guard dogs – and an even better track record as family friends. Quite how they got their name has never been certain. According to one story, it refers to the way they stand on their back legs, 'boxing' with their front paws; but some people dispute this theory. Neither side seem prepared to throw in the towel.
The Boxer is a handsome and charismatic dog, and tends to attract owners with similar qualities. Back in the golden age of Hollywood, Lauren Bacall and Humphrey Bogart started with one (Harvey) and liked him so much they added two more. Today, Jessica Biel and Justin Timberlake also have two boxers.
Why buy pet insurance for your Boxer?
Common medical problems experienced by Boxers include skin conditions, eye problems (particularly corneal ulcers), heart disease, and mast cell tumours. Boxers also sometimes develop hypothyroidism, which can lead to a number of issues including weight gain, allergies, hair loss and itching; fortunately, it is generally easy and inexpensive to manage with thyroid supplements. Some white Boxers (dogs whose marking are one-third or more white) are affected by problems with their hearing; around 15%-20% are thought to be deaf in one or both ears.
Pet insurance can help with the potentially high cost of vet treatment should any of these conditions arise, as well as providing public liability cover in case an over-excited Boxer causes an accident.
Why join the Boxer Pet Insurance group?
By joining this group you use the buying power you share with other Boxer owners to get a better deal on pet insurance. There is already a £15 cash back offer available for members, so please join the group to find out more.
Community questions and answers
How much is lifetime pet insurance for a Boxer?
Based on insuring a 3-year old Boxer, in an MK postcode. Minimum criteria: £4,000 vet fees cover (£12,000 for More Th>n). Data as at 11 September 2014.
| | | | | |
| --- | --- | --- | --- | --- |
| VetsMediCover | Gold | £31.80 per month | 3/5 Defaqto rating | Quote |
| MORE TH>N | Premier | £40.36 per month | 5/5 Defaqto rating | Quote |
| John Lewis Insurance | Plus | £34.82 per month | 5/5 Defaqto rating | Quote |
| Petplan | Classic | £44.38 per month | 5/5 Defaqto rating | Quote |
Defaqto has a star ratings system for pet and other types of insurance. "A basic product, with a low level of features and benefits" scores 1 star, while "An excellent product with a comprehensive range of features and benefits" scores 5 stars. Find out more.