Please call for a quote None
Birds of Prey Insurance

Join this group to demand a better deal on birds of prey insurance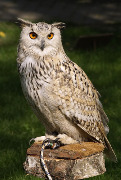 It is easy to see why someone would want to keep a bird of prey as a pet – they are truly majestic and magnificent creatures.
That said, while it is always recommended to do a lot of research when adopting a pet such as a dog or rabbit, a bird of prey requires even more excessive preparation and a thorough understanding of the huge responsibility of keeping such an animal. In addition to the time and financial commitment, there are strict guidelines in place anyone wishing to keep a bird of prey as a pet in the UK is required to follow.
Even when all requirements are met, good and fair pet insurance for birds of prey is not easy to come by. A bird of prey kept as a pet must be regularly allowed to fly freely for exercise purposes. This leaves the bird vulnerable to injury, particularly as, sadly, while it is illegal to shoot at birds of prey in the UK, many still do. They can of course also sustain injuries in other ways, as well as naturally occurring illnesses.
Additionally, even properly trained, birds of prey are wild, strong hunters and so can easily cause damage or injury to property, people and other animals, which makes personal and public liability insurance for birds of prey particularly important.
We want to make sure people who keep birds of prey get a fair deal on their insurance, and we want to do that by using collective buying power.
By joining this group, you are adding your voice to our goal of getting fairer insurance for these fantastic companions. The more people join, the more our negotiating power grows and the better our chances of getting you the best deal.
Please call for a quote None