Birds of Prey liability insurance

We have liability cover for Birds of Prey displays, handling, pest control and more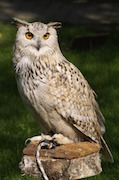 Birds of Prey are majestic and powerful animals; it's easy to see why children and adults are fascinated by them.
If you're a handler, falconer or a company that owns birds for displays or pest control you will always make sure your animals are cared for and that anyone interacting with them is safe. But you should consider liability insurance whether you fly or display your bird for work or for your own enjoyment.
Public liability insurance, also known as third-party liability, is designed to cover compensation and legal costs in the event that a bird injures someone or causes an accident.
It doesn't cover vet treatment or provide any of the other benefits of pet insurance policies. We do have a group for Bird of Prey insurance that covers vet fees.
Accidents are rare but the costs relating to them can be significant. Liability insurance from a specialist provider can be tailored to the activities you carry out and it can give you peace of mind that you won't end up with a large bill if something goes wrong.
Third party liability Insurance for Birds of Prey can be arranged by the specialist insurance company Brooks Braithwaite (Sussex) Limited. Join this group and click get a quote to find the enquiry form. Fill it in and Brooks Braithwaite will call you back to discuss your needs and help with your quote. You can also call them on 0345 982 5499 to request an application form.
The cost of Bird of Prey liability will vary depending on the factors such as the activities the birds are used for and where the activities take place, but it can start from around £64 a year.
For many bird owners it's a privilege to be able to hold talks to educate people about the animals and offer them the chance to have a photo with a bird. However, that does put people in close contact with strong creatures that they're not used to and in some cases either the person or the bird can behave unexpectedly.
Brooks Braithwaite covers all kind of work with Birds of Prey, from displays and film or TV appearances to pest control, falconry and hawking or carrying rings at a wedding.
They can provide £1m, £5m or £10m of liability cover and offer the flexibility to extend indemnity levels for short periods for an additional fee. Brooks Braithwaite can also add employers' liability insurance to cover volunteers and helpers at events.
It's a joy to see Birds of Prey flown, whether as part of a public display or working to remove pests. Having liability cover means you and your birds can get on with your jobs knowing you have an insurance safety net.