Bichon Frise Insurance

Join other UK Bichon Frise owners to demand a fairer deal from pet insurance companies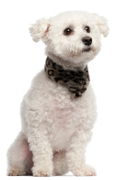 Merry, majestic, and ever so slightly mischievous, Bichon Frises have been held in the highest regard throughout history. They've hopped across continents in the company of Mediterranean sailors, and popped their little heads up in great classical paintings of the Old Masters.
King Henry III of France was apparently so distraught by the idea of being apart from his beloved Bichons that he took to wearing a basket around his neck, so he could carry them with him wherever he went. Today's Bichon owners will understand how he felt (whilst hopefully restraining themselves from such drastic measures).
Bichons are happiest in good company, and we think their owners will be too. Which is why we're inviting you to club together with other Bichon owners, to get a better deal on pet insurance. We negotiated an exclusive offer with Lifetime Pet Cover, so please join the group to find out more.
And if you know other owners of beautiful Bichons, why not invite them to join too?