Please call for a quote None
Yoga Teacher Insurance

Come together with other yoga teachers for a better offer on professional insurance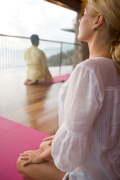 Yoga is more than just physical exercise; it strives to improve the wellbeing of the soul and mind. Maintaining a calm atmosphere throughout the class is essential to both the students and the teacher.
Most Yoga Teachers are diligent and proactive when it comes to safety, but momentary lapses in supervision, or misunderstanding students' pre-existing conditions and injuries, can lead to legal action being brought against Yoga Teachers. These cases can result in thousands of pounds in legal fees and lost revenue, as well as reputational damage. By joining this group, you will be coming together with other Yoga Teachers to demand a better deal on your professional insurance, in accordance with the relatively low risks of yoga practice. We do not require you to be a member of any organisation and there is no membership fee to pay.
When 20 Yoga Instructors join the group, we will begin negotiations to get the best offer possible , leaving you to concentrate on your teaching and your own personal development in the art of yoga.
Please call for a quote None
Top questions answered by us
What types of insurance do Yoga Teachers need?

Professional Indemnity Insurance for Yoga Teachers (sometimes called PI Insurance), protects against lawsuits by students who are hurt as a result of professional negligence or malpractice. Public Liability Insurance is needed in case a student hurts themselves at the yoga teachers' premises of practice (whether at a home-based studio or a separate space); it also covers you if your client's own home is damaged as a result of your business (if you run classes at clients' homes). Product Liability covers you if a student is hurt as a result of the use of a product you recommend or use. Lastly, Personal Accident covers you if you are hurt as a result of teaching and is particularly helpful if the injury means you are unable to work for a period of time.

Does the policy provide cover for temporarily teaching yoga overseas?

Most policies covers business activities within the EU, but cover for teaching outside the EU can usually be arranged by the policy underwriter.