Please call for a quote None
Yoga Teacher Insurance

Come together with other yoga teachers for a better offer on professional insurance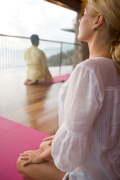 Yoga is more than just physical exercise; it strives to improve the wellbeing of the soul and mind. Maintaining a calm atmosphere throughout the class is essential to both the students and the teacher.
Most Yoga Teachers are diligent and proactive when it comes to safety, but momentary lapses in supervision, or misunderstanding students' pre-existing conditions and injuries, can lead to legal action being brought against Yoga Teachers. These cases can result in thousands of pounds in legal fees and lost revenue, as well as reputational damage. By joining this group, you will be coming together with other Yoga Teachers to demand a better deal on your professional insurance, in accordance with the relatively low risks of yoga practice. We do not require you to be a member of any organisation and there is no membership fee to pay.
When 20 Yoga Instructors join the group, we will begin negotiations to get the best offer possible , leaving you to concentrate on your teaching and your own personal development in the art of yoga.
Please call for a quote None