Belgian Shepherd Insurance

Join other UK Belgian Shepherd owners to demand a fairer deal from pet insurance companies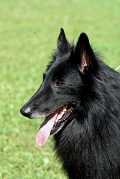 Loyal, intelligent, and trainable, Belgian Shepherds are as popular with families as they are with the Welsh police, who have taught them to herd absconding criminals and butt them off their feet!
Belgian Shepherds are robust dogs, and although they have a higher than average incidence of seizures and epilepsy, they typically need fewer visits to the vet than other dog breeds. This good health makes Belgian Shepherds very appealing prospects to pet insurance companies – which is why we've started this group.
By joining, you can use the collective buying power you share with other Malinois, Groenendael, Laekenois, and Tervuren Belgian Shepherd owners to demand cheaper pet insurance for Belgian Shepherd dogs and Belgian Shepherd puppies. We said that when 20 owners joined the group, we would begin negotiations with pet insurance companies to find the best possible deal for your Belgian Shepherd - and we're delighted to have now agreed a special offer for members with MORE TH>N. To find out more and get a quote, please join the group.
And if you know other Belgian Shepherd owners, why not help increase the group's buying power by inviting them to join too?