Bearded Collie Insurance

Join other UK Beardie owners to demand a fairer deal from pet insurance companies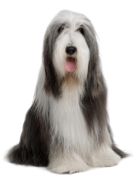 Intelligent, affectionate and lively, Bearded Collies make excellent family pets, as well as dog show champions.
They were first bred in Scotland in the 16th Century as herding dogs, but became nearly extinct during the Second World War (partly due to the rise in popularity of the Border Collie throughout the first half of the 20th Century). Luckily, a British woman by the name of Mrs G. Olive Wilson fell in love with a Beardie named Jeannie and decided to breed her with Beardie Bailie. Thus, Bailie and Jeannie of Bothkennar are believed to be the founders of the modern Bearded Collie.
Bearded Collies are generally considered healthy dogs, but can suffer from hip dysplasia, arthritis, and Addison's disease. Due to their long, shaggy coat, they need daily grooming, as they can suffer from external parasite infestation and skin infections, if not kept clean and dry.
By joining this group, you can club together with other Beardie owners to get a better deal on insurance for your happy, fury friend.