Please call for a quote None
B&B Insurance

Join other B&B owners for insurance with the same personal touch you offer your guests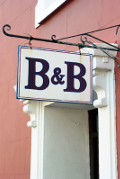 Running a Bed and Breakfast or Guest House is personal. Unlike most hotels, which are designed and furnished in bulk, the décor of many smaller businesses is the labour of love, and personality, of the owners. We believe your insurance should be as unique as your business, and tailored specifically to your needs.
Insurance is absolutely essential for any business, and particularly when it involves paying guests. But unfortunately owners of small, privately-run businesses are often offered insurance policies designed for larger hotels, with risks their businesses do not feature - like a dance floor, a deep fat fryer in the kitchen, or a license to serve alcohol. That can mean paying over the odds, which we think is unfair.
So, we've started this group to help Bed and Breakfast owners find insurance that is aimed specifically at businesses which have 12 rooms or fewer. When 50 B&B and Guest House owners join the group, we will begin negotiations with insurance companies to get you a fairer deal.
Looking for Airbnb insurance? We've written an article about companies that offer this increasingly popular insurance.
Please call for a quote None
Top questions answered by us
What kind of insurance do B&B owners need?

Building insurance is a good place to start; many business owners make the mistake of insuring their B&B for its market value when, in actuality, it should be covered for the amount it will take to rebuild it, which is often much higher. You will also need content fixtures and fittings cover (make sure it covers you for both accidental damage and damage by guests), cover for food stock, frozen food stock, Liquor (if applicable) and any money kept on the business premises. Additionally, you will need Public and Product Liability cover in case a guest is hurt on your premises, as well as loss of license and business interruption cover, in case your business is unable to operate for a period of up to 12 months following a disaster.

I live on the property, is my home covered?

Most companies require you to get a separate policy for your personal belongings. However, some specialist companies do offer a combination of the two. It is important to always check the small print to make sure you are covered for both your business and your home and that the two do not cancel each other out.

Do guests really damage bed and breakfasts?

Yes, a surprising number of claims made by B&B owners are for damage intentionally caused by discourteous guests. According to More Than Business, over a period of 5 years, 336,000 beds were broken by guests in UK hotels and over 300,000 TV sets were damaged.