Animal club or society insurance

Specialist insurance for animal rescue centres and sanctuaries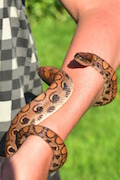 Animal clubs and societies are growing in popularity. Reptile owners and bird of prey handlers are just some of the many enthusiasts forming groups around the country.
Clubs are great for debates about care and handling, checking out other people's animals, educating children and adults about a species and even holding competitions with prizes for exemplary pets or animals.
If a society is holding regular meetings, attending events or organising their own that involve animals, children or people who aren't used to handling certain creatures, it's worth considering liability insurance. It is not a legal requirement but it can cover expensive compensation and legal costs in the event an animal injures someone or causes damage.
Brooks Braithwaite (Sussex) Limited offers a specialist liability policy for clubs and societies that can also cover for cash, equipment and items such as trophies for competitions.
Join this group and click get a quote to find the enquiry form. Fill it in and Brooks Braithwaite will call you back to discuss your needs and help with your quote. You can also call them on 0345 982 5505 to request an application form.
The cost of insurance for an animal club will depend on how often it meets and they level of cover it needs, but Brooks Braithwaite prices start at around £50 a year.
Clubs can help spread the word about exotic pets, birds and mammals at schools and events, but having animals in environments they're not familiar with can make them behave in unexpected ways. Insurance means you can be covered if something goes wrong.