Animal centre or sanctuary insurance

Specialist insurance for animal rescue centres and sanctuaries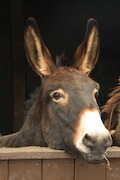 Animal centres and sanctuaries offer a hoof, paw or claw-full of activities; from animal rescue, care and rehoming to family days out, tea rooms and gift shops.
The variety of these activities means organisations need specialist insurance from a company that understands their unique needs and risks.
Brooks Braithwaite (Sussex) Limited offers a policy for these businesses that can include building cover; contents including fixtures, furniture, computers and animal beds; stock; accidental damage; cash; public liability; and employers' liability. It also covers off-site animal events organised by centres and sanctuaries.
Join this group and click get a quote to find the enquiry form. Fill it in and Brooks Braithwaite will call you back to discuss your needs and help with your quote. You can also call them on 0345 982 5505 to request an application form.
Animal centres offer fun and furry days out and the experienced team at Brooks Braithwaite love helping those organisations get the cover they want and hearing about the dogs, donkeys, birds, goats and more being cared for.
Your local authority should be able to tell you about all the accreditation and cover you need to run a centre or sanctuary. Many centres need a zoo licence and if you have staff it's likely you'll have a legal requirement to hold employers' liability.
Prices will depend on the level of cover you need and your turnover, but they start from around £450 a year for Brooks Braithwaite's insurance. It does not cover vet treatment for the animals, that is something you can look into separately, or pay for treatment as and when you need it.
Some organisations have asked whether animal rescue centres need public liability insurance. It is not a legal requirement but it can cover expensive compensation and legal costs in the event an animal injures someone or causes an accident.
People of all ages visit animal sanctuaries, often because they can interact with the animals. However, both animals and people can sometimes behave in unexpected ways that result in an injury. Liability insurance is a safety net to protect you from any claims.
Whether you look after rescued donkeys or have a petting farm, knowing your insurance is sorted means you can focus on their care and making sure visitors have a great time.