Akita Dog Insurance

Join other Akita owners and get £15 cashback on your pet insurance for your Akita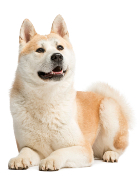 The Akita is a "Spitz" breed originating from Japan and recognisable by its thick coat, designed to combat the coldest of environments.
These fluffy friends are pretty robust and, although aloof with strangers at first, are renowned for their affectionate treatment of family members. The Akita has been referred to as an "angel in fur" because of its gentle, companionable and trustworthy qualities. The popular American strain of Akita is now considered a separate breed from its Japanese cousin and has a greater variety of colours and makings.
The Akita won the hearts of would-be pet owners worldwide with the story of Hachikō. This loyal dog would meet his owner, Professor Ueno, from the train every day after work. When one day the professor suffered a fatal stroke and failed to appear, his loyal Akita returned to the same station at the same time every day for nine years.
Although very hardy, the breed can be susceptible to some genetic conditions of the joints and to gastric dilation that can lead to bloating. They can also show an intolerance to some drugs and vaccines.
By joining this group you use the buying power you share with other Akita owners to get a better deal on insurance. Currently, there is an offer available with VetsMediCover, so please join the group to find out more.