Affenpinscher Pet Insurance

Join other Affenpinscher owners to get a great deal on pet insurance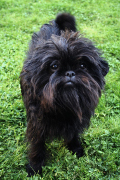 Scruffy, perky and full of quirky charm, this teeny dog is so special it was immortalised in a painting by one of history's greatest artists – Renoir (who included it in his 'Lunching of the Boating Party').
Affenpinscher means 'monkey terrier', which refers to the breed's unique features – a very short muzzle, a protruding jaw, a beard and moustache that give it a monkey-like appearance (meant with the greatest affection, of course). It was first bred in 17th century Germany, making it one of the oldest toy-breeds. Their small stature meant they were mostly used to hunt rats in homes and mills.
This tiny pooch can get enough exercise indoors, making it perfect for apartment living. Health wise, it's not such good news, with a long list of potential issues, including eye, heart, thyroid, teeth, hip and joint. They are easy to groom, but hard to train and so are probably best suited to experience owners.
They are affectionate and lively and so make great family pets, but their delicate small frames mean they are not recommended for very small children, who may get a little too excited and inadvertently hurt the little pups.
By joining this group, you club together with other Affenpinscher owners to get a great deal on pet insurance for you teeny ape-like playmate.