Abyssinian Cat Insurance

Join other UK Abyssinian owners to demand a fairer deal from pet insurance companies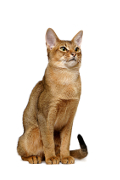 No one seems to know for sure where the Abyssinian cat comes from. While the name refers to a country that was once part of Ethiopia, some claim that their lineage goes back to ancient Egypt (the cats featured in hieroglyphics are often said to resemble Abyssinians). More recently, advances in DNA technology have suggested that Asia – not Africa – was the birthplace of this noble cat.
The most famous Abys in modern times were Amber and Rumple, who together shared the role of Jake in 'The Cat From Outer Space': a 1978 science fiction movie about a cat-like Alien who comes to earth in a flying saucer. Perhaps the producers were making a comment on the Abys' otherworldly appearance?
Abys are slimline, sophisticated and curious cats, forever at the ready to play and explore. They are often said to be good hunters; even indoors, they will display their keen instincts during games (which they never seem to tire of) with balls, string or any makeshift toy in sight.
It is highly recommended that all Abyssinian cats used for breeding are tested for the gene which carries Pyruvate Kinase (PK) deficiency. The condition is often mild (and sometimes undetectable) but some cases can lead to symptoms including lethargy, depression, lack of appetite, pale gums or an enlarged abdomen. In the worst cases, the condition can lead to life-threatening anaemia.
By joining this group you use the buying power you share with other Abyssinian Cat owners to get a better deal on insurance. Currently, there is an offer available with MORE TH>N, so please join the group to find out more.