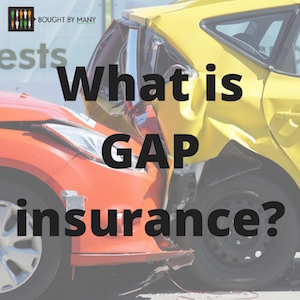 Gap insurance pays out the difference between what your car was worth when you bought it and the amount car insurance pays out (the current value of the vehicle) if it is written off or stolen.
It stands for Guaranteed Asset Protection but also refers to the 'gap' between a car insurance payout and the original value of the car.
You can get a quote for Gap cover from ALA GAP.
Be aware that there are different versions of Gap insurance and exceptions within policies.
It is a controversial policy that has come under scrutiny from the FCA because of a historic poor claims ratio (the amount paid out compared with the premiums paid). It is also often sold by car salespeople on the forecourt at higher prices than other companies offer for comparable policies.
It exists because new cars lose their value quickly and car insurance will only pay out for the value of a car at the time the accident.
On average new cars lose 60% of their value after three years, according to the AA. That means if you buy a car for £30,000 and it is written off in three years your insurer could pay out about £12,000. Gap insurance could cover the £18,000 difference, although that will depend on the policy you have.
It does not replace standard car insurance, in fact, you cannot get Gap cover without a normal car policy.
Read our list of the 10 best car insurance companies.
Read on to see if Gap cover is worth it and why you may or may not need it.
Consumer alert!
As you'll see from the rest of this article, Gap insurance has been the subject of FCA action. Before you buy it, make sure you understand exactly how it works and that it does not overlap with your car insurance. If you are interested in Gap cover, shop around. It can be more expensive to buy it from car dealerships.
The best GAP insurance
Gap insurance companies offer similar levels of cover so it's worth getting a quote from a few of them. Most offer up to £50,000 of cover and policies that last up to 4 or 5 years. GapInsurance.co.uk offers up to £100,000 of cover.
Here are the most popular Gap companies in the UK.
GapInsurance.co.uk
Direct Gap
Click4Gap
Different types of GAP insurance - how they work
Return to invoice Gap insurance – This is a lump payment that makes up the difference between what you paid for a car and what a car insurance payout gives you. It can be used when you buy a new or second-hand car, however, used cars do not lose their value at the same scale as new cars so Gap cover may not be useful. For new cars, it is aimed at those bought within the past three months.
Return to value Gap insurance – This is similar to return to invoice cover but for cars bought from dealers, not within the past three months. It will pay the difference between the insurance payout and the value of the car when the policy was taken out.
Finance Gap insurance – This version covers money you have borrowed to buy a car. Gap cover will pay the finance company to cover your remaining debt at the time of the claim minus your car insurance payout.
Vehicle replacement or new car Gap insurance – This offers the biggest payout and is likely to be the most expensive policy. It aims to mitigate the rising cost of cars or any discount your received when buying a car that may not be available anymore. It should give you the difference between a payout and the original price you paid plus a bit more, so you can replace your car for a new one of the same specification.
All policies tend to be between one and five years long, and three-year policies are common.
How much does GAP insurance cost?
The price of Gap insurance is based on the list price of your vehicle, the level of cover you select and how long the policy lasts.
It takes a few seconds to get a quote from companies like ALA GAP.
We got a quote for a £10,000 car in February 2018. ALA GAP suggested £7,500 of cover and the policy was set for a 3-year term. The quote was £151.
Be aware that the price may jump for different levels of cover. For example, £5,000 of cover for the above scenario would cost £150 but £10,000 of cover costs £182.
Remember, if you select it, you'll be paying for Gap cover as well as your normal car insurance.
Gap insurance providers may also offer add-ons such as excess cover, MOT insurance and misfuelling insurance, which will increase the cost of your premium.
Is GAP insurance worth it?
Whether Gap cover is worth it for you will depend on factors such as the size of a loan used to buy a car.
However, there are some stats that show Gap insurance hasn't always provided value for money for consumers. The claims ratio for Gap insurance was a pitiful 10% between 2008 and 2012, which means for every £100 paid in policies only £10 was paid out.
To put that in context, the average UK motor insurance claims ratio in 2013 was about 75%, according to Insurance Europe.
Check the next section to see why you may or may not find Gap cover useful.
Car buyers interested in cover are urged to shop around for a Gap insurance quote. It is often sold by car dealers at inflated prices because they take commission. Similar policies can often be found online from reputable Gap insurance providers like ALA GAP at much cheaper prices.
You can read our review of ALA GAP here.
Gap insurance comparison can take time because providers are not always listed on comparison sites. But you can compare the cover levels offered by providers using the independent financial review service Defaqto.
In fact, the low claims ratio and complaints about policies bought from car salespeople prompted the FCA to take action in 2015.
It introduced a number of reforms such as making sure car dealerships list Gap insurance as a standalone cost and give potential customers more information about what it covers. They are also not allowed to make a Gap insurance sale on the same day as a car sale, there should be a four-day waiting period to give consumers a chance to shop around.
If you are considering Gap cover make sure you know exactly what it covers and when it will pay out. For example, policies may not cover any extras you have paid for or installed yourself.
Do I need GAP insurance?
The easiest way to answer this questions is by looking at some of the circumstances in which you may not need Gap insurance.
If you're buying a second-hand car you're less likely to need Gap cover. Generally, used cars are cheaper and do not lose their value as quickly or to such an extent as new cars. That means used car owners will have less financing that they need cover for and a car insurance payout will cover more of the car's value.
If you have decent comprehensive car insurance it may offer enough cover on its own. Many car policies will pay for a new car if yours is written off or stolen in the first 12 months of ownership. That is when a car's value suffers the most depreciation, which Gap policies aim to cover.
If your car policy pays for a new vehicle in the first year you may not feel Gap cover is worth it, but if you still want it, consider taking Gap insurance out after that 12-month period.
Check out our pick of the 10 best car insurance companies.
Other situations in which Gap cover may not be that useful include if you have paid a large deposit for a car and don't take much finance. In this case, there might not much of a gap to cover.
And if don't have a loan and are happy to buy a car worth the value of a standard insurance payout there's not much point of Gap insurance. Your insurer should offer a fair payment equal to the value of the car at the time it is written off. That means you should be able to buy a second-hand car of a similar age and model to the one you were driving.
Don't forgot that you'll also have to pay a Gap insurance excess as well as the excess on your car insurance. And, of course, you'll only be able to use the cover if you actually have an accident that means your car is no longer road-worthy or it is stolen.
Gap insurance may be more useful for people who have paid a small down payment on a car, are paying a lot of interest on the car finance, are paying off the debt over a long period and/or have a car that loses its value quickly.
In these cases, Gap can be used to make sure you aren't left with a lot of debt and no car to drive.
As mentioned previously, make sure you compare quotes if you are considering Gap cover. Policies from ALA GAP start at £77 and Warranty Direct charges £140 for three years of cover. It can be more than that from car dealers.