Bought By Many and VetsMediCover use group buying power to help owners tackle the high cost of insuring Siberian Huskies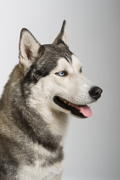 Bought By Many, the company bringing people power to insurance, today announces a new offer for Siberian Husky owners in the UK.
The cost of vet treatment and a higher than average probability of third party liability claims make Sibes one of the more expensive breeds of dog to insure. But now, Siberian Husky owners can get lifetime dog insurance for less than £25 a month from VetsMediCover, and receive £15 cash back when buying through Bought By Many.
To create the offer, Bought By Many used the collective buying power of the 246 members of its Siberian Husky Insurance group.
Steven Mendel, Co-Founder and CEO of Bought By Many said: "We're delighted to have found an affordbale lifetime policy for Siberian Huskies, which are traditionally expensive dogs to insure. VetsMediCover offers vet bills cover up to £10,000 with a low excess, and £1m of public liability cover, making it an incredibly competitive offer - even before the £15 cash back."
Sibe owners can join the group and benefit from the offer at Bought By Many's website.
Owners of Alaskan Malamutes can also take advantage of the offer through a separate group for Mals.
Notes for editors
The cost of lifetime pet insurance from VetsMediCover compares favourably to other pet insurance companies. For example, the cost to insure a 3 year old Siberian Husky in a Milton Keynes postcode is as follows:
VetsMediCover (Gold): £24.46 per month + £15 cash back
John Lewis Insurance (Plus): £25.22 per month
Petplan (Classic): £31.35 per month
More Than (Premier): £34.18 per month
Lifetime (or 'yearly limit') insurance covers vet fees up to the stated limit every year. This can be a good option if you worry about your pet developing a long-term or recurring illness. So long as you renew a lifetime policy each year, the level of vet fees will reset to the full stated limits that you started with.
With a lifetime product, it is important to note that your premiums will increase each year at renewal. This is different to a "Per Condition" policy, where a particular condition can become excluded once the condition limit is reached. Your excess is also likely to increase as your pet gets older.
Lifetime pet insurance is different from annual pet insurance, as it continues to pay out for vet bills indefinitely, with the cover limit being reinstated each year. By contrast, annual pet insurance only pay out for a maximum of 12 months.
About Bought By Many
Bought By Many is shaking up insurance with social media at the heart of its business model. It connects people with similar insurance needs into groups, and uses the group's collective buying power to negotiate offers on insurance that wouldn't be available to individuals. The concept's simple - the more people who join a group, the better the deal becomes. It also benefits insurers, enabling them to reach the segments they most value, diversify risk, lower dependency on aggregators, and achieve greater profitability.
About VetsMediCover
VetsMediCover aim to provide high quality pet insurance in a simple way. They have a straightforward pricing system and application form, with a focus on customer service and rapid claim payments. They pay vets directly, meaning policyholders do not need to worry about settling vet bills.