Travel Insurance for Sports Activity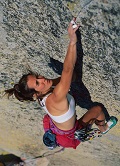 If you're a new climber, you'll know the feeling. You're half-way up, there's a beautiful view but you're not looking. Your attention is fixed on your feet, which are perched on two impossibly small ridges that you could never have spotted from the ground. You've got to move them to keep going up, but despite safety equipment and precautions, all you can do is think about is "What happens if I fall…?"
Answering that question is a lot easier if you have insurance as any good insurer will be swift to help in providing medical attention when needed. However insurers exclude many activities, pursuits and extreme sports as standard, so there's a risk you're not covered. This means some extra effort is needed so that you get insurance that covers your activities, rather than just any insurance.
To help, we have put together this guide to explain how insurers consider activities and provide useful information to you if you're trying to get covered for them. If you already know what you're looking for, you may want to get a quote from the following insurers (their independent Defaqto rating is shown in brackets):
What type of insurance would cover me?
Activities and sports when away from home are usually covered on travel insurance policies. These will be in force when you're abroad but if you're considering a break in the UK, some travel policies will still cover you.
Travel insurers will have a definition of what counts as "Travel" - it can simply be that you are away from home for 2 nights, regardless of whether you go to another country or not. This varies so check with the insurer to know when you're covered.
Why do travel insurers consider activities and extreme sports differently?
Most activities and sports, despite their increasing popularity, are still unusual from an insurer's point of view in that the majority of holiday-makers don't go SCUBA diving, horse-riding and so on.
In addition, despite the excellent safety records that most sports and activities enjoy, the reality is that if you are surfing, kayaking or wakeboarding, you're still more likely to be injured than if you are reading a book by the pool. So insurers know that people doing those sports or activities will make more claims due to injury or accident.
What does that mean for my insurance?
Insurers create standard policies for the masses. These cover the typical risks of losing your baggage or cancelling your trip. They also include cover for some very basic activities that the insurers consider low-risk (e.g. playing a friendly game of beach cricket).
These are cheaper for the majority of people as they don't include cover for sports and activities that they are just not going to do. Because you –are- going to do something different, you'll have to tell the insurer what that is. Most likely, they will then provide insurance that covers your sport or activity with an increased premium.
How specific do I have to be?
You should be as specific about your activity as possible. There are nuances that you might not expect as insurers can break down activities into very specific groups. For example Topdoginsurance will cover you as standard for cycling. However if you are cycling in a race, they will not and you would need additional cover. Similarly trekking can be covered as standard, but if you are trekking over a specific altitude say 3,000m, you might need additional cover.
What happens if I get insurance that does not cover the activity?
The increased premium can put people off. However if you choose not to have insurance for your sport or activity, you have to be aware of the risks. If you get injured or cause an accident whilst doing that activity, you would then be liable for the costs. The insurer will not pay.
Those costs can be significant. Medical treatment abroad can be expensive but it can also be the cost of coming home. If you're injured badly and need an operation, you might want to get that done in the UK in a familiar system, close to home, family and friends, without language barriers. Returning from your holiday when injured can mean specialist transport, equipment and even a medical escort. That doesn't come cheap and can be in the £10,000s.
How can I get insurance for my activity?
Most insurers will separate activities and sports into different tiers. They understand for example that high-diving comes with more risks than basketball or beach games. As a result, high-diving will be in a higher tier. The higher the tier of activity you want to do, the more you will be charged for the cover. It's a remarkably fair system as each person then pays for the risks they're exposing themselves to.
How much does travel insurance for sports activity cost?
We've compare the cost of travel insurance for specific activities below. The list is based
on a 25-year-old traveling on a one-week holiday to Europe with Go Travel Insurance's Single Trip policy and shows the total cost of insurance including cover for that activity.
Surfing (up to 14 days) - £8.50
SCUBA diving (up to 30m) - £8.50
Tennis - £8.50
Deep-sea fishing - £12.75
Dog-sledding - £12.75
White-water kayaking - £25.51
American football - £25.51
Rock climbing - £29.76
SCUBA diving (30m-40m) - £29.76
Which insurer should I use?
We've covered the basics here but each insurer has a slightly different approach to covering activities and sports. For example,
Columbus Direct Travel Insurance cover kite-surfing on a lake as standard within their normal policy and will not charge more, however Go Travel Insurance consider kite-surfing of any kind to be a category 4 (their most-risky category) activity and will apply an additional premium.
As this illustrates, insurers have different views on the risk that each activity and sport carries, so as a result it is worth shopping around to get the best deal.