Spectrum Travel Insurance Review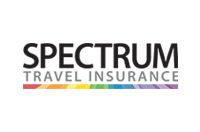 Key policy features
An upper age limit of 85 on its single trip and multi-trip policies
£10m medical expenses cover on its Platinum policy
Long Stay insurance that can cover you for up to 12 months abroad
Get a quote from Spectrum or find out if it makes it into our list of the best travel insurance companies.
Read on to learn more about:
What types of travel insurance does Spectrum offer?
Spectrum offers single trip, multi-trip, gap year and long stay travel insurance. All its annual trips offer a trip limit of 50 days.
The company offers four levels of travel insurance:
Bronze provides £2.5m in medical expenses and repatriation, £750 cancellation cover, personal accident cover of £2,500, £500,000 personal liability cover and legal protection of £2,500. The excess on this policy is £125.
Silver provides £5m in medical expenses and repatriation, £1,000 cancellation cover, £750 personal baggage cover, personal accident cover of £10,000, personal liability of £1m and legal protection of £10,000. The excess on this policy is £95.
Gold provides £7.5 million medical expenses cover, £5,000 cancellation cover, £2,000 for personal baggage, £500 cover for personal money, £300 travel delay, £20,000 personal accident cover, personal liability of £2 million and legal protection of £25,000. This policy has an excess of £65.
Platinum provides £10m in medical expenses and repatriation, £10,000 cancellation cover, £3,000 personal baggage cover, £750 cover for personal money, £500 for trip delay, £100,000 personal accident, £3m personal liability and legal protection of £50,000. There is no excess on this policy.
Spectrum's gap year insurance offers Silver, Gold and Gold Plus travel insurance. Gold Plus includes £2,000 cover for course fees and £1,000 for computer equipment, on top of the regular Gold policy limits. Its gap year cover can insure you for up to 18 months.
Spectrum's long stay travel insurance can cover you for up to 12 months and is only available as a Gold policy.
Spectrum also offers winter sports cover for all four of its policies.
Are there any restrictions with Spectrum travel insurance?
As with all travel insurance policies, there are some general exclusions that apply to all areas of the policy.
For instance, you will only be covered for war risks and terrorism for claims relating to emergency medical treatment, hospital benefit and personal accident. Personal accident cover is excluded in the event of a nuclear, chemical or biological attack.
This is common for travel insurance. However, some policies will cover you specifically for war risks and terrorism. Check out our article on travel insurance with terrorism cover and for dangerous areas.
For more information about the company's general exclusions, check its policy documents. They can be found on Spectrum's website.
Does Spectrum offer travel insurance for over 65s?
Spectrum's single and multi-trip policies are open to anyone up to the age of 85 inclusive. If you turn 86 while you are insured, you will be insured until the end of the policy.
Spectrum's long stay cover is available up to the age of 75 and its gap year cover will only cover you up to the age of 45.
Finally, if you pick the winter sports optional extra, you will only be insured up to the age of 65.
How much does Spectrum travel insurance cost?
The cost of Spectrum travel insurance will depend on a number of factors, including your destination of travel, how long you are going for, your age, which policy you choose and whether you pick any optional extras.
For this reason, it can be difficult to predict how much a travel insurance policy will cost. And though price is an important factor, it shouldn't be the only thing you take into consideration when you pick a travel insurance policy.
You can get a tailored quote from Spectrum here.
We've written more about this in our best travel insurance article.
It's important to take the excess into account when looking at the price of a policy. A high excess on a policy on a policy with low cover limits may not offer good value. You may not be able to claim for some things if the limit is lower than the excess or the excess could eat into a large part of a claim.
Does Spectrum offer travel insurance cover for pre-existing conditions?
Spectrum may be able to cover some pre-existing conditions, as long as you declare them when you take out the policy.
The company asks you to declare any conditions you have experienced within the last two years. This includes any condition you have received treatment or medication for or any treatment that has required you to have surgery, consultation or follow up appointments. This includes if you are on the waiting list for a consultation, a surgical procedure or a follow-up appointment.
It also requires you to specify whether you have ever been diagnosed or treated for heart or circulatory conditions, strokes, high blood pressure, a brain haemorrhage, breathing conditions, cancer or diabetes.
It can be difficult to get travel insurance for these conditions as insurers see them as high risk. However, if you declare it to Spectrum it may be able to provide you with some cover. If Spectrum can't insure you for the condition, you should still be able to get some insurance. However, you won't be able to claim for anything related to that condition.
Bought By Many is in the process of developing a new travel insurance product for those that suffer from cancer. Join our travel insurance for cancer patients group to be the first to find out about our new policy.
Customer reviews of Spectrum travel insurance
On Feefo, Spectrum has been awarded 4.4 stars based on over 400 reviews and is a Feefo Trusted Merchant.
Spectrum uses Feefo to collect feedback and many of the reviews may be from people who have just bought cover but haven't had to use it.
Spectrum is not listed on Reviews.com, Reviewcentre.com or Trustpilot.
Expert reviews of Spectrum travel insurance
Spectrum's Platinum travel insurance product has been awarded 5 Stars by an independent financial reviewer. Its Gold policy has been awarded 4 Stars and its Silver 3 Stars. Its Bronze policy has 2 Star.
A Star rating indicates where a product sits on the market due to the quality and comprehensiveness of its features.
On Fairer Finance, Spectrum's Gold and Platinum travel insurance products have both been awarded 5 stars. Its Silver policy has been given 2 stars, and its Bronze just 1 star.
How to make a claim on Spectrum travel insurance
To make a claim with Spectrum travel insurance you need to call them on 0203 824 0714 to get a claim form. Alternatively, you can visit www.travel-claims.net.
You must fill out the claim form and return it to Spectrum travel insurance, along with any supporting evidence, within 31 days of your return from your trip.
Details of the supporting evidence you need can be found in your policy documents.