3 ways the sharing economy will change insurance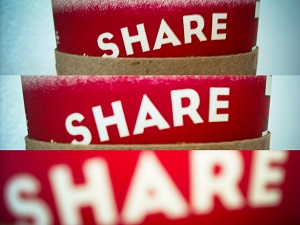 How did you spend your last holiday? Did you go sightseeing in London aboard a Boris bike, find a great place to stay with airbnb, or catch a lift to somewhere new with ride sharing firm Bla Bla Car?
If so, you are part of the new sharing economy that's been gathering pace across the world during the last few years. We've always known that it's "good to share" but since the global financial crisis, it seems as if a new consciousness has taken over. Having watched decades of excess collapse in a heap, many people think it's time to stop prioritizing greed or wealth, time to start reconnecting with our fellow human beings and time to get a little bit better at using the resources around us more wisely. The result has been a surge of start-ups designed to make sharing easier – and sometimes profitable – for us all.
But what does that mean for the insurance industry? Surely having lots of people coming and going from your spare room or borrowing your car to drive into town can't be good for insurance premiums? In fact, the whole issue of sharing is one that insurers have really struggled with, so much so that leading insurance industry figures kicked off their summer with a trip to Downing Street to meet people from the sharing economy and government representatives.
According to Stuart Reid, executive chairman of Bluefin who spoke to Insurance Age, "it's all about dealing with insurance in a different way", so to help things along, here's our take on three of the ways in which the sharing economy means change for the insurance industry.
1. Sharing ownership
According to US data shared by Insurance Journal, more than half of American holiday home-owners would happily rent out their home to someone else and more than a third of boat owners would rent out their boats.
That's great news for holidaymakers but insurers are keen to point out the increased risk of damage – or even personal injury – that come along with sharing belongings for economic gain.
According to a survey carried out by ORC International on behalf of Chubb Group, many of us are aware of these risks:
73% have their eyes wide open to the risk that their renters might leave some bed-bugs behind
70% admit to being slightly fearful about the safety of the family silver
Three-quarters of people worry that their renters will throw caution to the wind and throw a wild party
But being aware of the risks doesn't necessarily mean you can prevent disaster from happening and, if the worst does happen, sorting out what is and isn't covered by an insurance policy could be a minefield. Insurers urgently need to find new ways to account for these new risks and help educate customers about exactly what policies do and don't cover.
Over time, new insurance products will be required that can reflect the shared risk between owner and renter and ensure that everyone – the insurer included – is adequately protected.
2. Sharing insurance costs
Of course, one element of those new products might well include finding a way for people to share the costs of insurance. Whilst it doesn't necessarily make sense for renters to purchase their own individual insurance, the owners will understandably want to pass on at least some of the cost. With a holiday let, that's fairly simple, the owner can just factor it into the overall cost, but what about something a little more complex like car sharing?
How should insurers treat cars that are driven by multiple people and if you regularly car share and so don't use your own car so much, shouldn't you get to benefit from cheaper insurance?
This latter point prompted the launch of US start up MetroMile, a San Francisco-based firm that lets drivers pay by the mile. MetroMile uses a device called the Metronome to track the miles each driver covers. Users simply plug the device into a car's onboard diagnostics to begin collecting data.
In the UK, Guevara has taken inspiration from the sharing economy and set up a "collaborative consumption self-insurance platform" that aims to "get rid of the insurance company and allow you to manage your own insurance." Guevara is all about groups. When you join a group, your premium goes into a group protection pool, which funds claims made by group members during the year. Any leftover funds at the end of the year are kept by the group, ready to fund the next year's cover.
Today, such ventures seem like disruptive start-ups but they point towards a future for the insurance industry that looks radically different from today.
3. Sharing information
And it's not only the insurers who are evolving. Customers' behaviour has also changed considerably over the last decade. Whereas insurance firms once hounded customers for renewal dates, these days consumers are willing to put in significant leg-work to seek out an insurance deal that suits their individual needs and when they hit gold, they are keener than ever to tell all their friends.
Insurance buying platform Bought By Many is one example of how insurance distribution is changing, shifting power increasingly towards the customer. At Bought By Many, people can sign up for groups dedicated to specific types of insurance for example, or travel insurance for those with a particular medical condition.
Once enough people have joined a group, deals are negotiated with insurers to secure exclusive discounts or special terms, leveraging group-buying power to benefit everyone. Of course, there's a big incentive to encourage friends to sign up, since more participants mean better deals for all. Bought By Many recognise this, making it quick and simple to share a group on Facebook or other social networks and hence a virtuous circle of sharing begins.
Insurance is on my top 3 waiting for disruption list. Checkout 'Bought By Many' http://t.co/K1qH5UR1RY

— rachel botsman (@rachelbotsman) September 9, 2014
So there you have it, three ways in which a sharing, caring economy is set to disrupt the insurance industry. All that remains is to see how insurers react, who will seize the initiative to evolve and who will be left behind as the speed of technology inspired insurance innovation gathers pace?
Photo credit: C!...