Review: Saga Home Insurance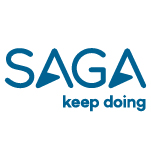 Summary
Saga focuses on those aged 50 or over, providing insurance, holidays, financial services and healthcare.
It is a well-established company that boasts an array of accolades and industry awards. Saga aims to offer high-quality home insurance policies, which means its products may cost a little more than some competitors.
You can get a personalised home insurance quote on the Saga website.
Overview of cover provided by Saga Home Insurance
Saga offers a comprehensive range of home insurance products, including building insurance, home contents insurance, landlord insurance and high-value home insurance under the name 'TailorMade'.
Build and home contents cover is available at two levels – Saga Home and Saga Essential.
Saga Home cover includes valuable extras as standard including our 3-year fixed price feature. If you select this cover level, your price will be fixed for the next two renewals.
Saga Home comes with other features that include: Accidental damage cover, Personal belongings cover, Matching sets cover, and Alternative accomodation. Saga Essential doesn't come with our 3-year fixed price and extra features Saga Home offers as standard, but does provide a comprehensive level of cover.
If you need a higher level of cover, Saga's 'TailorMade' Home insurance provides cover for your contents for more than £100,000 and your buildings for more than £1,000,000.
Saga's landlord cover offers variable sum-insured amounts, accidental damage cover, legal expenses cover, malicious damage and vandalism, and alternative accommodation cover.
The company also offers a range of optional extras, including garden cover and home emergency cover, and personal belongings and legal expenses for any policies which do not include them as standard.
Interested? Get an instant saga home insurance quote online.
How much does Saga home insurance cost?
The cost of a Saga home insurance policy will depend on a variety of factors, including your address, the sum you wish to insure, the level of cover you choose, and whether you opt for any added extras.
Saga is a quality brand offering comprehensive insurance products, so its pricing does generally reflect that. However, customers purchasing a policy online will save 20% on their quotes, and those looking for landlord insurance can enjoy a 10% multi-property discount if they insure more than one property.