Review: Saga Car Insurance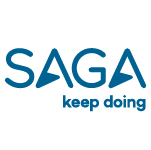 Summary
Saga is a British company founded in 1959, focusing on the needs of those aged 50 or over, providing insurance, holidays, financial services and healthcare.
Its products are designed for and exclusively available to those aged 50+, and they can often command a premium. However, this is a well-established company that boasts an array of accolades and industry awards. It seems that Saga customers are prepared to pay a little more for their quality and service.
You can get a quote for car insurance at the Saga website.
Overview of cover provided by Saga Car Insurance UK
Saga offers car insurance at three levels: third party, third party fire and theft and two comprehensive cover levels; Saga Car and Saga Essential.
Unlike many third party policies, Saga's offers slightly more thorough cover than usual. In addition to covering claims made by a third party, this cover includes legal protection and legal liability, plus cover in the EU and cover for any person with a full driving license to drive your car in the event of a medical emergency.
Cover for third party fire and theft includes these benefits, plus offers cover for your vehicle if it's lost or damaged as a result of theft or arson. This level also includes cover for audio, visual and communications equipment, if it's damaged as a result of fire or theft.
Saga's has two comprehensive cover policies: Saga Car and Saga Essential.
Saga Car insurance has a cover level that comes with a 3-year fixed price. The price you pay will be fixed, as long as nothing changes, for the next two renewals. Your price may be locked in for three years, but it's not a three-year policy - you can choose to leave at renewal if you wish. Saga Car cover includes:
Onward Travel - This will get you to your UK destination by taxi if your car's too damaged to continue your journey after an accident in the UK
Receive eligible private medical treatment - If you or your spouse/partner is injured in a road traffic accident in the UK
Legal protection - This help you recover uninsured losses – such as loss of earnings after an accident that's not your fault in the UK, if the legal team believes your case can be won
Saga Car also offers a range of added extras, including legal protection, Accident Healthcare cover, and protected No Claim Discount.
Saga Essential comes with fewer features than Saga Car and doesn't include a 3-year fixed price. With both Saga Car and Saga Essential cover levels you can benefit from:
Emergency any driver cover - If there's a medical emergency during your journey, any driver can take over the driving or take your car back home
Unlimited European driving - You can get the same level of cover within the EU as you have in the UK for an unlimited time

Interested? Get an instant saga car insurance quote online.

Get a tailored saga car insurance quote here.

What do Saga car insurance reviews from customers and experts say?

When considering customer satisfaction and policy reviews, we found that Saga car insurance ranked in the top 10 out of 31 providers for both categories.

According to Defaqto – the independent financial products review organisation – Saga's car insurance has earned 5 out of 5 Stars, making it 'an excellent product with a comprehensive range of features and benefits'.