Review: Saga Car Insurance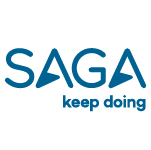 Summary
Saga is a British company founded in 1959, focusing on the needs of those aged 50 or over, providing insurance, holidays, financial services and healthcare.
Its products are designed for and exclusively available to those aged 50+, and they can often command a premium. However, this is a well-established company that boasts an array of accolades and industry awards. It seems that Saga customers are prepared to pay a little more for their quality and service.
You can get a quote for car insurance at the Saga website.
Overview of cover provided by Saga Car Insurance UK
Saga offers car insurance at three levels: third party, third party fire and theft, and fully comprehensive.
Unlike many third party policies, Saga's offers slightly more thorough cover than usual. In addition to covering claims made by a third party, this cover includes legal protection and legal liability, plus cover in the EU and cover for any person with a full driving license to drive your car in the event of a medical emergency.
Cover for third party fire and theft includes these benefits, plus offers cover for your vehicle if it's lost or damaged as a result of theft or arson. This level also includes cover for audio, visual and communications equipment, if it's damaged as a result of fire or theft.
Saga's comprehensive cover is like other comprehensive car insurance in that it covers any damage caused to your own car, even if a third party is not involved. It also offers the most benefits, including uninsured driver cover, vandalism cover, up to 70% no claim discount, 'get you home' cover which offers up to £500 in travelling and hotel expenses following an accident, a guaranteed replacement car, up to £1,000 personal belongings cover, unlimited audio/visual cover, windscreen and sunroof repairs at no excess, and 'new for old' cover on cars up to one year old, no matter how many miles are on the clock.
Saga also offers a range of added extras, including premium legal protection, increased personal accident cover, accident healthcare and breakdown assistance, which can be added to any policy for an additional charge.
On their website, Saga say that every additional car insured on the same policy will receive a discount.
Interested? Get an instant saga car insurance quote online.
How much does Saga car insurance cost?
The cost of car insurance with Saga will depend on a number of factors, including your address, the make and model of your car, the level of cover you choose, and so on. While Saga customers are older individuals and usually happy to pay for quality care and service, Saga claims that its comprehensive cover starts from just £161 per year, noting that 20% of customers who took out a new Comprehensive policy between January and March 2018, and paid annually, paid this or less.
Get a tailored saga car insurance quote here.
What do Saga car insurance reviews from customers and experts say?
When considering customer satisfaction and policy reviews, we found that Saga car insurance ranked in the top 10 out of 31 providers for both categories.
According to Defaqto – the independent financial products review organisation – Saga's car insurance has earned 5 out of 5 Stars, making it 'an excellent product with a comprehensive range of features and benefits'.