Man's best friend in peril as new laws are introduced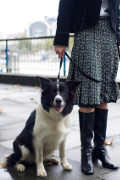 What's that, Lassie? New legislation has come into force? And you're going to be compulsorily neutered if mean old Mr Jones's complaint to the council about your barking is upheld?
Yes, an updated 2014 remix of the Dangerous Dogs Act has arrived and it is a dog's dinner of a law that threatens to entangle ordinary dogs and their owners in malicious complaints, rules and the burgeoning prefect–power of local government.
Yet it is just one symptom of a dispiriting trend: the de–dogging of Britain.
Our relationship with dogs is precious. With their vivacity they stand, ears cocked, slobbering just slightly, ready to pull us back out of the sterilised, micro–managed world we are slipping into.