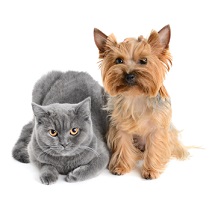 Which pet insurance companies offer multi pet insurance discounts?
Here's a quick comparison of the top multi pet discounts offered by the best-known pet insurance companies:
All of these companies allow you to get multi pet insurance quotes online. If you'd like to compare the other features and benefits of the different pet insurance policies, why not read our reviews on the Best Pet Insurance for Dogs and Cats?
What is multi pet insurance?
Multi pet insurance is the name given by insurance companies to a pet insurance policy which covers more than one pet. Increasingly, insurance companies are offering cheaper prices to people insuring multiple pets on the same policy. They usually refer to this as a "multipet" discount.
4 out of 10 UK pet owners have two or more pets in their household, meaning that multi pet insurance is an understandably popular choice. We expect to see multi pet insurance become cheaper over time, as competition between pet insurance companies increases.
Discounts for multiple pets are typically between 5% and 15% of the total pet insurance premium.
Latest news on multi pet insurance
We're delighted to announce that we've used the collective buying power of our members to negotiate a better deal on multi pet insurance for all the UK's multi pet households. You can now get a 28% discount on multi pet insurance with More Than using our combined Bought By Many member, online and multi pet discount.
Join our Pet Insurance group to find out more and get a quote.
Multi Pet Insurance for Rabbits
There are two options if you have rabbits and are looking for multi pet insurance:
Petplan allows you to cover multiple rabbits on the same policy, but doesn't offer a specific multi pet discount
Helpucover pet insurance offers their 8% multi pet discount for rabbits
Multi Pet Insurance on Lifetime Pet Insurance policies
Good news: all of the insurance companies listed here allow you to use their multi pet discount on their lifetime pet insurance policies. As lifetime pet insurance is typically more expensive than other types of pet insurance, multi pet savings are all the more valuable.
As a member of Bought By Many's Pet Insurance group, you can get 28% off lifetime pet insurance from More Than. (More Than's lifetime pet insurance policy is called "Premier").