InsureCancer Travel Insurance Review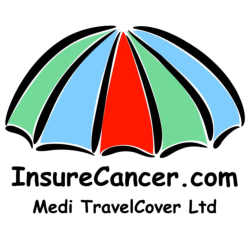 Key policy features
Specialist cover for people with cancer, including terminal diagnosis
Medical expenses up to £5m
No age limit
Find out if InsureCancer made it into our list of the best travel insurance for medical conditions.
Or, read on to learn more about:
What types of insurance does InsureCancer offer?
InsureCancer is a specialist travel insurance provider, offering cover for people who have been diagnosed with cancer, including those with active, metastatic, relapsed or terminal cancer.
InsureCancer only offers single trip insurance (no annual policies).
Cover is tailored to each passenger according to their specific need, but InsureCancer policies include:
Up to £5 million for emergency medical expenses (up to £1,500 within your home country)
Up to £1,000 for missed departure
Up to £3,000 for abandonment after 24 hours
Up to £1,250 for personal possessions (up to £200 for each item and £250 for valuables)
Up to £500 for personal money
Up to £2 million for personal liability
£15,000 for accidental death (£1,000 for under 16s)
£15,000 for loss of limbs
£15,000 if you are permanently unable to work after an accident on your trip
Up to £25,000 for legal advice and expenses
A £100 excess fee applies to some claims (£250 for personal liability claims for rented property damage).
All InsureCancer policies include an automatic extension of cover, which means the policy will be automatically extended, without extra charge, if you are unable to return to the UK as planned due to illness, injury or interruption of public transportation services.
See how InsureCancer compares to other providers in our list of the best travel insurance providers.
How easy is it to get a quote from InsureCancer?
InsureCancer does not provide online quotes. To get a quote, you must call the company's customer service line on 0125 278 0190 or 0845 649 0190 (Monday to Friday 9:00am to 5:00pm).
There is no automated medical screening to go through, but you will be asked a few questions about the nature and history of your medical conditions and your current state of health.
The company promises to treat all queries with empathy, but they cannot guarantee it will be able to provide cover. That said, according to its website, it aims to cover anyone who is fit to travel, as long as they have been cleared by their doctor to do so.
The company's website is not the most user-friendly, but it does provide useful information about its ethos, as well as FAQs about its policies, and case studies of customers.
On the Kidney Cancer Support Network, one customer commented about InsureCancer's quote process: "I spoke to someone [at InsureCancer] who said that the All Clear [another travel insurance company] quote was outrageous, to be honest he sounded like a doctor and he asked a lot of detailed and relevant questions. He said that they would send a questionnaire to my oncologist and would determine the premium after this, he warned however that the cost would be 'a few hundred pounds' but less than £500."
How much does travel insurance from InsureCancer cost?
As this is a highly specialised provider, the cost of travel insurance from InsureCancer varies widely according to the individual circumstances of the person travelling.
Does InsureCancer cover over 65s, 70s and 80s?
Yes. InsureCancer has no age limit for its travel insurance. According to the company's website, it aims to provide cover to anyone who is fit to travel, as long as they are not doing so against their doctor's orders. This includes customers with a terminal diagnosis.
Are discounts available for insurance from InsureCancer?
We couldn't find any discount codes for InsureCancer travel insurance online.
Customer reviews of InsureCancer travel insurance
Reviews for InsureCancer Travel Insurance were not available on review websites.
However, on their own website, InsureCancer has testimonials from customers, sent to them by letter, email and on Thank You cards.
These include:
"We experienced an uncaring attitude with many other companies we contacted prior to yours. A terrific service, thank you"
"Great service, lovely people, excellent!!"
"One hundred percent for the patient and not just out to make money from people's unfortunate medical conditions"
"Excellent knowledge of the disease, was made very comfortable"
Additionally, comments about InsureCancer Travel Insurance can also be found on specialist websites. In Marie Curie's online community, customers have said:
"They were brilliant. As the deadline for Olsen cancelling our cruise approached, InsureCancer asked intelligent medical questions, asked for letters from GP and Consultant and eventually found cover. It was expensive, and entailed blood tests, but they remained calm, constructive and helpful as we became more and more stressed! We went on a 'holiday of a lifetime' as a result."
"The cheapest I have found is InsureCancer, who will need to fax your consultant for a form to be completed but will cover for repatriation etc. in case the worst happens."
"Unfortunately, most of the companies who advertise travel insurance for cancer patients are not interested in patients with active secondaries and all have declined my applications and/or failed to return my calls. There is one exception: InsureCancer, who have been a pleasure to deal with. I am 69 and the cost of cover for an imminent single trip to Canada is just over £2,000 with a £4,000 excess to cover my condition."
Expert reviews of InsureCancer travel insurance
Neither Fairer Finance nor Defaqto have rated InsureCancer on their websites.
How to make a claim
There are no specific details on how to make a claim on the InsureCancer website. If you wish to make a claim, the best thing to do is to call the company's customer service line on 01252 780190 or 0845 6490190 (Monday to Friday 9:00am to 5:00pm) or email enquiries@insurecancer.com.
Additionally, all customers receive access to a 24/7 multi-lingual crisis management helpline.