The incredible dogs that are being trained to detect cancer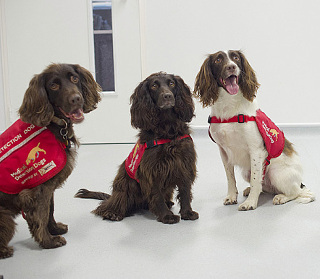 When 12-year-old Steven Courtney plays football, there is an extra family member on the sideline. Along with his parents and his eight-year-old brother, his four-year-old cocker spaniel, Molly, is there too, her fluffy brown coat encased in a bright red medical detection dogs jacket. Steven was diagnosed with type 1 diabetes at the age of three, a condition that, until two years ago, took a sledgehammer to his family's life. Steven's sugars would often drop so suddenly that his mother, Serena, would have to pin him down to make him drink glucose. Sometimes he would fall face-first to the ground. Putting Steven to bed in a stable state was never enough. His parents barely slept owing to the constant alarm setting and checking required throughout the night to keep his blood sugar on an even keel. Football – any exercise – had to be managed carefully. Now, however, with Molly by his side, Steven is safe – in bed and on the pitch.
Molly is among 55 or so medical alert assistance dogs in the UK, most of which are trained to smell the changes in breath that occur as a result of type 1 diabetes. Molly is saving Steven's life every day. When she becomes agitated – barking, jumping or fidgeting – Serena knows immediately that her son's blood sugars need calibrating. Such is the sensitivity of Molly's nose that it has been possible to train her to smell the crucial changes in Steven's breath from some considerable distance, even while he is playing football. If Molly smells a change in Steven, she has permission to run to him across the pitch.
'I call her our guardian angel,' Serena says. 'She proved herself even when she was in training, barking to let us know the sugars had dropped at least half an hour before the time I had set the alarm for. He could very easily have slipped into a coma. It doesn't bear thinking about.'