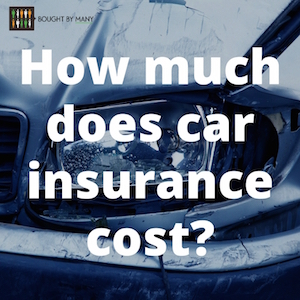 The average car insurance premium in the UK costs £429 a year, according to Association of British Insurers (ABI) data from the first quarter of 2016. That is the equivalent of £35.75 a month.
The ABI says premiums have risen 10% since the first quarter of 2015 and 1% since the end of 2015.
The ABI uses data from a number of insurers but other organisations give different answers. MoneySuperMarket says the average cost of annual car insurance in spring this year was £470 and Confused.com says it was £715 in the second quarter of 2016.
However, they all agree that costs have risen in the past few years.
MoneySuperMarket says prices soared 22.6% in the past two years and the ABI calculates today's prices are the highest since 2012.
Read our guide to the 10 best car insurance companies, where you can compare quality cover.
It is possible to pay less than the average premium. Car insurance costs are calculated using three core factors: the car you drive, your driving experience and age, and your claims history.
We'll look at each of these below.
Factors that affect car insurance premiums
The car you drive
Insurers set a premium based on a driver's 'risk', this is the probability they will need to make a claim.
Insurance firms work out your risk using the information you give them when you get a quote. There are many factors involved in this calculation but a key one is the kind of car you drive.
The make, model, age, security, value and size of your car all affect the price of your insurance.
Some of the factors influence the chance of a claim and others the cost of a claim.
For example, sports cars are more likely to be involved in accidents so they are seen as a higher risk. And repairing a powerful car is likely to be a long and expensive process, which also adds to the cost of a premium.
Brand new cars may be mass produced and have top-of-the-range safety and security features but they have a high value when they've just left the dealership and will cost a lot to replace.
The cheapest cars to insure are 'group 1' cars. The insurance industry uses 50 groups to set pricing levels.
You can see a list of group 1 cars here, it is made up of smaller vehicles such as the Vauxhall Corsa and Seat Mii.
Group 2 cars are the second cheapest, so if you want to keep insurance costs down it's worth checking out the models on the group 1 and 2 lists.
Cars with particularly powerful engine sizes, old or rare cars are likely to have higher insurance premiums and you may even need to buy specialist cover.
Read our guide to the best car insurers here.
At present there aren't many stats available for the average cost of insurance for Tesla electric cars in the UK. However, anecdotal quotes on a Tesla forum range from £250 to £1,200 for a Tesla Model S.
Tesla owners on the forum say Admiral, LV=, NFU Mutual and Home & Legacy all cover Tesla cars and can offer rates comparable to petrol or diesel vehicles.
Your driving experience and age
Most young drivers have experienced the pain of trying to get a reasonable insurance quote. Data does show that young drivers are more likely to be involved in accidents, unfortunately, that means insurers tar all young people with the same brush.
Premiums are usually high for people around 17 and 18 years old because they haven't had the same time as older drivers to prove they are safe behind the wheel.
Check out our guide to the 10 best car insurance companies for young drivers.
The more experience you have, the cheaper your car insurance premium. That is why people aged between 40 and 70 with no claims are likely to be able to get the cheapest quotes. After 70 prices tend to rise because people's reaction times slow with age.
Young drivers do have options to lower their premiums. Insurers will take into account advanced driving courses when calculating a quote and black box policies can bring down premiums even more.
Black box insurance involves fitting a small device to the car that tracks the owner's driving, giving them a rating based on things like how well they brake, accelerate and corner. The driving score can then be used calculate a lower premium or reward customers with discounts.
We've ranked the best black car insurance policies here.
Young people can also be listed as a named driver on a more experienced person's car. This is what learner drivers have to do, although there are separate policies created for them by companies like Marmalade. It will cost a little to add a driver to a policy but not as much as getting them a separate policy.
Insurance costs should noticeably drop when a driver reaches around 21 years old, as long as they haven't been involved in an accident.
History of claims
Insurers use data on previous claims to calculate your premium.
Customers can also build up a no claims bonus (NCB), which is based on the accumulative years they have not made a claim. Insurers offer discounts relating to a customer's NCB, which vary from company to company.
The Co-op offers a 70% discount for five years or more without claims.
Unsurprisingly, if a driver makes a claim their insurer is likely to increase their premium because they believe there is a greater chance of them make subsequent claims.
However, it's difficult to say how much car insurance goes up after a claim. If a driver is not at fault their no claims bonus may be protected.
It's also possible to buy NCB protection as an add-on to car insurance. NCB protection allows a certain number of 'at fault' accidents without affecting your bonus. It doesn't make you immune to price hikes after a claim because insurers use previous claims to calculate your premium before discounting your bonus.
Price increases after a claim can be small but will depend on a number of factors such as who was at fault and the amount of damage caused.
If you claimed more than 5 years ago you may not be required to disclose it to an insurer.
Other car insurance costs
There are other car insurance costs that can crop up, such as charges to cancel a policy. How much it costs to cancel car insurance will depend on when you cancel and the terms and conditions of your policy.
If you change your mind within the first 14 days of your policy you're protected under the UK's cooling off period, although you may still have to pay for the days of cover you received and an admin fee.
After the first two weeks the cancellation fee may be higher and you might not get a full refund.
Breakdown cover is a separate policy to car insurance but many insurance providers offer it for an additional cost. It's worth shopping around because the breakdown cover insurers offer is often provided by separate companies who may be cheaper.
See our list of the 13 best breakdown providers.
Insurance for business cars is often covered by the company that owns the car, although you may be able to transfer a no claims bonus from a company car to a private insurance quote.
Rental cars usually include car insurance in the hire costs.
Caravans may need separate insurance policies, we've written a guide to touring and static caravan cover here.
It is possible that the Brexit vote for the UK to leave the European Union could impact insurance costs. EU rules put a stop to gender being used to calculate insurance quotes. However, women are statistically safer drivers than men so when we leave the EU it could mean that insurers will be allowed to offer women cheaper premiums. Watch this space.