How much does travel insurance for older people cost?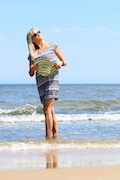 The inevitable and frustrating answer is that it depends. Insurers take into account a long list of factors to give you a price, including the location you are travelling to and the cover you want, but also details about you like your age and medical history.
We've negotiated a 20% discount on travel insurance for over 70s from specialist provider FreeSpirt. To access the offer, join our group for Travel insurance for over 70s.
Their pricing is very complicated, such that the most competitive insurer for a 75-year-old might not be the most competitive for an 80-year-old, or even 76-year-old! This can lead to a lot of time spent shopping around and that's why we've created groups to serve separate age categories.
Our groups exist to use their collective bargaining power to get access to deals they could not get another way. Joining is free so do join the group relevant to you - see the Related Offers list on the right of the page - if you'd like to get access to our deals!
Alternatively if you'd like to know mo