How much does buy to let insurance cost?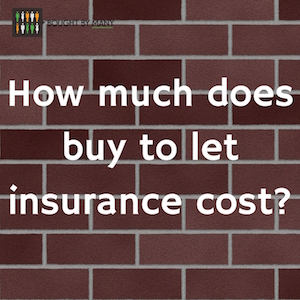 Buy to let insurance can cost anywhere from around £100 a year to over £1,000. The price will be based on the building you are getting cover for, which can vary massively, any extras you may want to include and your personal circumstances.
Buy to let cover is the same as landlord insurance and is often handled by the business arm of an insurer.
Direct Line says 10% of its customers paid £115 or less between November 2017 and April 2018
It tends to be more expensive than standard house insurance. If you know the home insurance premium for a particular area and add a bit, it will give you a rough guide as to what you can expect to pay.
It can be difficult to compare buy to let insurance quotes because insurance companies might need specific details from you, which means comparison sites are sometimes unable to retrieve prices from them.
There are no average costs of cover available.
However, it's easy to get quotes directly from insurers. Direct Line has an online quote form and it says it will beat the price of any other insurer, although we imagine you might need to call them to arrange that.
Other big companies that offer buy to let insurance include Aviva, Axa and More Than.
They all feature in our guide to the best landlord insurers.
When thinking about buy to let insurance costs you'll need to take into account the excess. You can usually set it yourself and it also ranges from about £100 to £1,000, although most policies automatically set it at around £200 to £300.
The higher the excess, the cheaper the premium will be.
Some insurers offer discounts such as a no claims bonus.
Things that will affect the cost of buy to let insurance
Here are a few things that will affect your basic premium:
The building The bigger the property, the more expensive your premium is likely to be. If your house or flat is unusual in any way, for example, it is listed or has a flat roof, your insurance is likely to cost more or you may need specialist cover.
Your postcode Insurance premiums are partly based on the area the property is located. If you live in a high crime neighbourhood, expect to pay more.
The content If you're renting a leasehold flat or house, you may only need landlord contents cover. The price will be based on the level of cover you need and whether you need features like garden cover.
Insurers also offer optional extras that will increase your quote, such as:
Accidental damage This can cover any damage a tenant causes to the building or contents. You can usually select separate cover for the building or contents.
Rent guarantee This feature can cover any rent you lose while a property is empty. It is a useful policy for landlords to have but it will increase your premium.
Boiler cover Some insurance companies offer boiler cover as standard but others may charge more for it.
Why do I need buy to let insurance?
Buy to let cover is not a legal requirement but it is worth considering so that you're not left out of pocket if there is any serious damage to your property or the items in it.
It can also pay for alternative accommodation for your tenants if they are unable to live in your property for certain reasons.
Check out our guide to the best landlord cover to find out why it is an important form of cover.
What does it cover?
Buy to let insurance can either cover the building, the contents in it, or both.
We go into more detail about what landlord insurance covers here.
We've also written a guide to getting the most out of your holiday home insurance.