Cyclists: why good insurance is always a good idea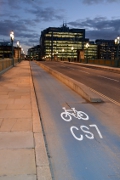 Cycling in the UK has never been so popular, with more people than ever discovering the joy of travelling on two wheels. Whether it's the inspirational heroics of our Olympic cyclists, the desire to get fit without joining a gym, or the attraction of saving both the planet and the pennies in your pocket – whatever the reason, the bicycle industry is booming. And that can only be a good thing.
Sadly, another 'industry' that's booming right now is bicycle theft. Official figures show that bike thefts rose by 7% between 2012 and 2013, with industry experts suggesting the real figure may be much higher (owing to the fact that many such thefts are never reported to the police). It's now estimated that a bike is stolen every 4-5 minutes in the UK, with the average new purchase lasting just 23 months before it's stolen; one in five bike owners fall victim to theft within the first six months.
Is there any such thing as a theft-proof bike?
For those determined to beat the thieves, there's good and bad news. The bad news is, short of leaving your bike in a secret underground bunker or in the care of an armed guard, it's all but impossible to 100% guarantee against your ride being stolen. If you're going to use it to get around (which of course is the reason you bought it in the first place), chances are you're going to need to lock it up outside from time to time – at which point it becomes a potential target.
The good news, however, is that there are many things you can do to significantly reduce the chances of someone stealing your bike. By and large, bike theft is a crime of opportunity: bikes are all too often an easy target, which is why thieves go for them. But thieves don't like hard work – if a 'job' can't be done quickly and/or easily, the chances are they'll move on and look for a softer target (and there's always a softer target).
Take every possible precaution
Don't fall into the trap that so many cyclists seem to make: splashing out on an expensive bike, then scrimping when it comes to a good lock. A lock is your first line of defence; better still, many cyclists now use two or more locks, with a favoured combination being one heavy duty D-lock and one strong chain lock. Be aware that many insurance companies (see below) have a pre-defined 'lock list'. This is a list of the locks that they consider sufficiently secure – failure to buy and use one of these locks could invalidate any claim you might need to make for a stolen bike (insurers will usually ask to see a receipt for the relevant lock).
It's equally important to understand how and (when you have a choice) where to lock your bike. The London Met Police – who deal with more bike theft than any other police force in the UK – provide some useful information on their website. See their practical ten-step list on how to secure your bike. We recommend taking as many of these steps as you can, as soon as practically possible.
And in this article in the Guardian newspaper, a reformed former bike thief gives the inside track on how bike thieves work. It provides some indispensable advice, such as why you should always try to lock your bike in a busy place (rather than a quiet place with CCTV cameras – which are apparently not much of a deterrent to thieves) and recognising that a punctured tyre may be a sign that a thief has 'marked' your bike – and intends to return for it later.
Don't risk being without insurance
Unfortunately even the most well-secured bikes can – and do – fall victim to theft. The majority of stolen bikes are never found or traced, so those hoping for their beloved bike to be returned are likely to face disappointment. But if you have a good insurance policy, at least you know that you can replace the bike as new, in a relatively short time-frame.
Do I need to take out an insurance specifically for my bike?
There are now a number of companies, such as Cycleguard and ETA Insurance, who provide insurance specifically for bikes. Many of these companies have a good reputation, offering comprehensive policies at reasonable prices. What many people don't realise, however, is that bikes can often be covered via home insurance. Insuring your bike through home insurance is usually also the cheapest option.
Will my bike be covered by home insurance – even if it's stolen outside the home?
There are many home insurance policies on the market, and when it comes to bicycles (and other specific or high-value possessions), the detail of these policies can vary considerably. For example, only about 1/3 of UK home insurance policies will cover your bike if it is stolen outside your home – and many of these will make an additional charge for that away-from-home cover, seeing it as an 'add on' premium.
Even to cover your bike whilst it is within your home, some policies require you to declare your bike as an 'additional item'. The bottom line is, you should never assume that your bike is covered on a home insurance policy. If in doubt, double-check.
Finally, it's a good idea to check that your insurance will pay out enough to cover the cost of replacing your bike. For example, if your bike is worth £1,000, but your insurer will only pay out a maximum of £500 – you're going to be left to stump up the rest yourself. Remember also that, as with any insurance claim, there is likely to be an excess; these can vary considerably between policies.
What about personal liability insurance?
You could be forgiven for thinking that the worst fate that can befall a cyclist – financially speaking – is for their bike to be stolen. But although a good bike can indeed be fairly expensive, few will cost as much as the repair bill for a hefty dent (or even scratched paintwork) on a brand new Porsche. And believe it or not, it's not unheard of for cyclists to cause damage of this kind.
Cyclists also face the possibility of causing injury to a person – again, this is more common than you might think. In 2012 for example, 78 pedestrians were seriously injured (and 1 killed) by UK cyclists. And in some cases, the costs of medical bills and/or compensation can be eye-watering.
If you own a nice bike, it makes absolute sense to have it covered by comprehensive insurance. And whatever your bike's value, we would strongly encourage you to cover yourself against personal liability.