Find cheap travel insurance for over 80 years old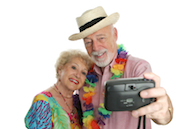 As life spans increase, being 80 needn't mean slowing down and people are staying fit, healthy and, most importantly, active, much later in life. Despite this fact, insurers are still reluctant to provide travel insurance for people over 80, as they anticipate high medical expenses in case a claim is made.
Insurers for over 80's travel insurance

Most companies fail to understand the needs of the over 80's, due to lack of proper research. Consequently, these companies provide travel insurance for the over 80's, but charge high premiums in order to protect their capital. Other companies take the time to learn the risks faced by this diverse age group and, by doing so, create a specialism, which brings with it fair pricing.
We believe this lack of understanding, and the need for excessive price comparison it creates, is unfair and needs to change. This is why we've created an Over 80's Travel Insurance group that uses the collective buying power of the over 80's to secure a 20% discount on Free Spirit Travel's Super Cover policy. The annual premium cost is £94 (based on an 85-year-old travelling to Europe) and the policy includes £1,500 of baggage cover, £2,500 cancellation cover and £10,000,000 medical cover. The excess is set at £100 and it comes with a 3/5 rating on Defaqto.
By joining our Over 80's Travel Insurance Group, you also gain access to our Best Buy table, which provides information on the other most competitive and comprehensive policies on the market, according to our findings, so that you can decide for yourself which best fits your requirements.
How your premium can vary

It is important to note that no medical conditions were declared for the above example. Existing medical conditions can severely affect premium costs, but it is of vital importance to declare all of your conditions accurately, as failing to do so may invalidate your policy and result in high charges in case you require medical attention while away. Free Spirit, and a number of other travel insurers for older travellers, allow you to screen medical conditions online so it has never been more convenient to declare any conditions.
Other factors also affect your premiums: where you choose to travel and the activities you plan to engage in can add or detract from the cost. One way to save money here is to specify what country you are travelling to, other than just the region, as some countries have lower medical cost than other - for example, France is cheaper than Turkey. Some insurers will recognise this and charge you a lower premium if you're specific about only travelling to 'cheaper' countries. However, if you just state you are going to Europe, you will not benefit from this so it is worth checking! Remember your EHIC card if you're travelling in Europe - it's no substitute for travel insurance for a number of reasons (not least being that it does not provide for repatriation if required) but it can entitle you to treatment on an equal footing with locals across Europe, including for example Malta.
Want to know more?

We've written a couple of articles that might be helpful for those looking to investigate travel insurance for older people:
Our final word!

Remember: always read the policy's full term and conditions, to avoid any nasty surprises in case a claim is made and, remember, sometimes a policy is cheap because it is highly restricted. Make sure your cover is sufficient for your needs.
Whatever your plans are, be sure you are ready for all eventualities with the right insurance cover for you, then you can start your holiday relaxed and ready for adventure!
Finally, we hope you have a safe and healthy holiday, full of fun and laughter.