Find travel insurance for over 75 year olds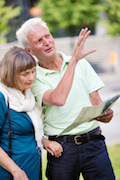 When the Office of National Statistics examined the improvements in life expectancy between 1960 and 2010, they found that the average Briton was living 8-10 years longer. Alongside increasing life expectancy, is an increasing quality of life with people staying active and independent into their 80s and even 90s. As a result, attitudes to age are changing.

However it is still hard to get holiday insurance for over 75's
Despite the clear trend in increasing lifespans and old-age activity, attitudes in the insurance industry are only changing slowly. Some insurers don't focus on the area and maintain very high premiums for those over 75 who travel. Others however have identified the trends, recognised the increasing well-being of older travellers, investigated the risks and have chosen to reduce prices.
This has led to a wide variety in the prices available for any one traveller, and the chances of getting ripped off can be quite high. Not only that, but there are still only a small number of insurers who are willing to provide holiday insurance for over 75s, so it can be hard to get a quote at all.
Bought by Many's exclusive members-only deal for travel insurance over 75
We think this is just not fair for the older generation, so we've created a group for over 75's to pull together and use their collective buying power. Using that collective buying power, we've secured a 20% discount on Free Spirit Travel's Super Cover policy for members of the group. The annual premium cost is £80 (based on European travel for an 80-year-old traveller) and the policy includes £1,500 of baggage cover, £2,500 cancellation cover and £10,000,000 medical cover. The excess is set at £100 and it comes with a 3/5 rating on Defaqto.
Making sure you are getting cheap travel insurance for over 75
As we have said in the introduction, it is important to shop around and make sure you have the best insurance for your own personal needs. We have done our bit to help, and checked prices across several insurers within a best-buy table. This table can be seen by members of our Over 75's Travel Insurance Group here.
A critical factor to consider is that of pre-existing medical conditions which can make a big difference in the premium you will be charged. Whilst it increases prices, it is critical to fully and honestly declare your pre-existing conditions if you want them covered. Otherwise, you may find you cannot make a claim should things go wrong. This can be very serious where a medical condition is involved as the costs can be substantial. The same is true for declaring your geographic destinations and any intended activities whilst on your trip.
We have travel insurance groups for people with medical conditions, such as Travel insurance for cancer patients; Travel insurance with Alzheimers; Travel insurance for people with heart conditions or Travel insurance for people with lymphoma.
We have also launched Travel insurance for people with severe medical conditions with no medical questionnaire. It comes with £500,000 of cover for emergency medical expenses and has no upper age limit. It will cover any severe medical condition.
Although the FreeSpirit and Bought by Many offer is based on a reduced price, it is also important to check the absolute levels of cover you are buying, rather than focusing on the cheapest price alone.
Know someone older or younger? Are you under 75 or over 80? We've a number of other groups that can help:
Have a safe trip!