A Smart Harness for Dogs With Hip Dysplasia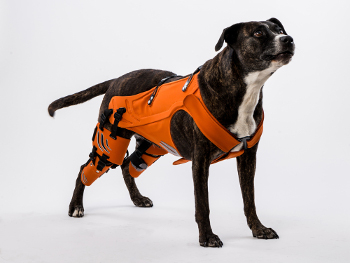 Of all the conditions that afflict man's best friend, hip dysplasia is among the most prevalent. It's heartbreaking, but treating it can be tough. Surgery is invasive, and physical therapy doesn't account for the hours when dogs are sitting at home. Which is why Galia Weiss designed the Hipster Harness, a full-body harness that helps rehabilitate dogs outside of the veterinary office.
Hip dysplasia is an inheritable disease occurs when a dog's hip develops abnormally. In a healthy dog, the head of the femur bone sits snuggly in the joint socket (acetabulum), allowing stress and pressure to be evenly dispersed over the joint socket. In dysplastic dogs, the abnormal development of the joint causes the socket to be looser, allowing the femur head to pop in and out of place and cause damage and pain. It's estimated that the disease affects up to 50 percent of some large breeds, like St. Bernards, Bernese Mountain Dogs, and Bloodhounds, though even small pups like pugs can be impacted, too.