Finding travel insurance for the over 70s, 80s, and 90s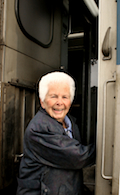 Getting travel insurance as you get older is challenging - insurers are reluctant to provide cover in many cases and, even when they do, it can be very expensive.
To help make finding suitable cover easier, we've put together a few tips to consider when conducting a search. These tips apply to travel insurance for the over 70s but, thanks to similar problems for other ages, they apply equally to travel insurance for the over 75s, travel insurance for the over 80s, over 85s, or even travel insurance for over 90s!
If you are over 70 and suffer from a severe medical condition, you might benefit from our new travel insurance for severe medical conditions. It can cover up to £500,000 of emergency medical treatment and there is no upper age limit.
Tips to bear in mind for cheap travel insurance for the over 70s, or older
Go direct to several specialist insurers to check prices.Why? Many comparison sites use only a small number of companies for older travellers meaning they are only comparing a section of the market rather than all available offers.What if I don't? You can still find cover, but you risk paying more than you need to.

Compare the costs of Single Trip insurance versus Annual Multi-trip cover.Why? If you are travelling more than once in the year, Annual Multi-trip cover is often more cost-effective. However, insurers often put a lower age limit on their annual policies - they are worried about the possible changes in health for a traveller over the course of a year - so you may have less choice. As a result, it is worth checking single-trip insurance as you will have a greater choice of insurers and possibly a lower overall cost. What if I don't? You could end up paying more than you need to - either by buying several single trip policies where one multi-trip would have been sufficient, or by paying for the convenience of a multi-trip policy where single trip cover would have been cheaper.

Make sure that baggage, medical and cancellation covers are sufficient.Why? Some insurers keep their policies affordable by cutting these out. This can be particularly important if you are doing something expensive like a cruise where cancellation cover is important, or you are travelling with expensive baggage or possessions. If you have individual items that are expensive on their own (perhaps an iPad, a new iPhone or a Macbook Air), you'll also need to check the 'single item' or 'valuables' limit.

What if I don't? Not checking the extent of cover could lead to you being either out-of-pocket or at worst, not covered at all.

Check the maximum age that your insurer will cover.Why? You might want to be with an insurer for several years if you think they have offered good service and you want to save time at renewal. If you are already at their maximum age limit, you may not be able to.What if I don't? You may find you need to spend more time shopping around in the future, though this could be worthwhile as a renewal quote can often be more expensive than other offers on the market.

Consider carefully which medical conditions you want to cover.Why? Covering medical conditions will have a big effect on price (more information here), but can be the most important part of your cover as it is the largest cost that insurers face.What if I don't? You could pay over the odds, or find yourself without cover for an expensive medical claim.

Our new travel insurance for severe medical conditions can cover up to £500,000 of emergency medical expenses and has no upper age limit. You can get a quote in seconds as there is no lengthy medical questionnaire.

In addition, you can also join specialist travel insurance groups for people with medical conditions, such as Travel insurance for cancer patients; Travel insurance with Alzheimers or Travel insurance for people with heart conditions.
Need to know more?
Finally, it is worth checking our other information on travel insurance at various ages. Our groups contain time-saving comparisons of some of the more popular policies and provide access to our exclusive member offers - it's free to join so that's a good place to start! If you prefer to look around for yourself, why not start with our independent reviews of several popular insurers who provide travel insurance over 70? Good luck!