Snuffles, the dog with two noses, finds a forever home!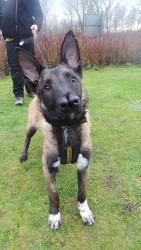 Snuffles, the adorable five-months-old Belgian Shepherd, was born with an extremely rare defect that makes him look like he has two noses. This sadly led to him being rejected by four owners and ending up at the Glasgow branch of the Dog's Trust.
The staff at the shelter were so taken with him, they lauched an online campaign to find him a forever home, and, to their delight, received over 40 requests for adoptions from all around the world, including as far away as the US and South Africa.
In the end, Snuffles found a home locally, East Lothian to be precise, in a house with a 1 acre garden for him to run around in.
We do love a happy ending!
We wish Snuffles many happy years in his new home.