Bad gut feelings – why doctors aren't spotting Crohn's disease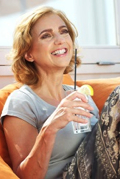 Miriam Kaltz was 22 when she visited her GP with abdominal pain that was making her reluctant to eat. The suggested diagnosis? That she had an eating disorder. "My doctor thought I was using this pain as an excuse not to eat," she says. "I hadn't even noticed I'd lost weight; I was more concerned about the symptoms and finding out what was causing them."
Kaltz, now 24 and a qualified vet, saw another GP and was referred to a consultant gastroenterologist. Following an MRI scan and a biopsy, she was finally diagnosed with Crohn's disease, a condition affecting the intestine that can result in severe diarrhoea, cramps, weight loss and extreme tiredness.
An estimated 250,000 people in the UK suffer from Crohn's and new figures suggest the disease is on the increase. According to the Health and Social Care Information Centre, the number of 16- to 29-year-olds receiving hospital treatment for the condition has risen 300% in the past 10 years, to almost 20,000. Why, then, is it still so hard for doctors to recognise the symptoms?
This article was independently written by Bought By Many. We were not paid to write it, but we may receive commission for sales that result from you clicking on a link to one of our partners.