Review: Direct Line Pet Insurance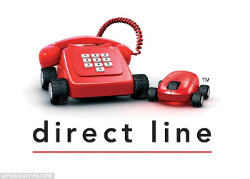 In Summary
Direct Line are a well-established insurance company, and have been operating in the UK for almost 30 years.
Follow this link to get a quote at the Direct Line website.
Or check out our guide to the best pet insurance for dogs.
Direct Line offer insurance across a range of categories, including home, car and travel.
At the time of writing, they are offering 12 months pet insurance for the price of 9 as an introductory online discount, which is applied over the first 12 months. They also offer a multi-pet discount for first-time customers. Discounts are applied consecutively.
Direct Line's parent company also owns Churchill and Privilege. Its pet cover is underwritten by U K Insurance Limited.
Overview of the cover provided by Direct Line Pet Insurance policies
Direct Line offer two pet insurance policies, Essential and Advanced.
Essential is a time-limited policy, allowing you to claim up to a total of £4,000 (per condition) in vet's bills for a period of 12 months (beginning from the first date of treatment). Meanwhile, Advanced has no time-limit on claims, and has a higher limit of £8,000 per condition.
If you're looking for a pet insurance plan that goes beyond medical (veterinary) cover, Direct Line allow you to select from a range of optional additional covers, such as third-party liability for dogs, overseas cover and a package of 5 add-ons including accidental death and money to pay for advertising and reward fees if your pet strays, gets lost, or is stolen.
These additional covers are optional and are available for both the Essential or Advanced policies.
Find out more about its policies and get a quote on its website.
Find out how Direct Line compares with other providers with our guide to the best pet insurers for dogs and the best providers for cats.
Do Direct Line have any age restrictions for their Pet Insurance?
Direct Line will insure dogs or cats aged between 8 weeks and an upper age limit shown on the policy document. It may be worth checking upper age limits with Direct Line before you purchase because they may vary by breed.
How much does pet insurance from Direct Line cost?
With almost all pet insurance companies, the cost of pet insurance varies widely depending factors like the age and breed of your pet, which part of the UK you live in and whether you buy any extras.
In autumn 2018 Direct Line's website said its Essential cover started from £9.03 a month and its Advance policy started at £12.22 a month.
What Direct Line Pet Insurance Customers Say
Direct Line uses review site Reevoo to collect customer feedback and its pet insurance scores 8.9 out of 10 from over 1000 reviews.
Direct Line Pet Insurance scores 2 out of 5 from over 80 customer reviews on Reviewcentre.com.
Independent review site Fairer Finance gave Direct Line pet insurance a customer experience score of 60% and a gold ribbon in spring 2018. It was ranked 4th out of 23 companies.
Are there other dog insurance or cat insurance policies you'd like to research?
This article on Direct Line Pet Insurance is part of a series of reviews we are featuring on different pet insurance companies, and the policies they offer for dogs and cats. See our articles on the best pet insurance for dogs and cats for more information on how Direct Line fare against their competitors.
This article was independently written by Bought By Many. We were not paid to write it, but we may receive commission for any sales that result from you clicking on a link to one of our partners.