Pet Insurance Lifetime Cover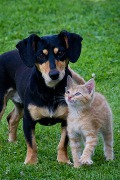 Pet insurance is becoming increasingly popular with UK pet owners. It is estimated that, in the UK, 54% of dogs are insured, and 34% of cats.
Choosing the right kind of pet insurance for you and your pet is not an easy task. Many factors go into the cost of pet insurance and it is easy to get overwhelmed or confused. There are also many types of pet insurance, including accident only, per condition and, the most comprehensive (and often recommended) choice, Lifetime insurance.
So, what's so special about Lifetime?
The main benefit is that it covers all the possible conditions your pet might be afflicted with in the future (not including any conditions your pet already suffers from when you take out the policy) and usually offers a generous pay-out for illness or injury.
As long as you renew the policy each year, the level of cover will remain the same (though there is no guarantee the fees will not increase).
Why choose this policy?
If you are able and willing to pay more for your policy per month, this type of cover will give you peace of mind that even if your pet gets a serious, long-term illness like arthritis, diabetes or cancer, you will not be left thousands out of pocket as you care for your them.
What do you need to look out for?
It is always essential to know the exact details of what is and isn't covered under your policy. Certain costs, such as dental treatment, cremation and burial expenses might require further payment.
Additionally, it is important to note how much cover your policy offers and what the terms are. There are two options:
Per-condition per-year limit – this offers you a fixed sum per year for each individual illness your pet can incur. So, if your limit is £5,000 a year to treat a condition, the policy will pay for your pet's treatment up to that sum for every year of its life, and the condition will not become a 'pre-existing' condition upon renewal.
Lifetime limit – this option offers a fixed amount per condition for the entire life of your pet. So, if a certain condition requires £40,000 of treatment over the life of your pet, but you are only covered for £30,000, you will be liable to pay the difference.
You should also remember that, while the policy is called 'lifetime', it is actually likely to be a year's contract ('lifetime' refers to cover limits). Although it is likely to cause mass upset, insurers can refuse to renew the policy at the end of each contract.
How much does it cost?
Pet insurance prices vary widely, depending on various factors, such as the breed and age of the pet and the location the owner lives in. Bigger dogs, such as Great Danes and St Bernard are more expensive than smaller ones, and the South East of England is the most expensive region of the UK for pet insurance, due to higher vet bills.
To be used purely as a guideline, here are some examples of the cost of Lifetime pet insurance for a 3-year-old Shar Pei, in a Milton Keynes postcode:
MoreThan: £13.53, with a Defaqto rating of 3/5
Protect Your Bubble: £14.85, with a Defaqto rating of 1/5
Petpals: £15.86, with a Defaqto rating of 2/5