From angry pet dragons to angry birds: bizarre home insurance claims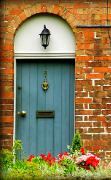 From being bitten by an angry pet dragon to a goose destroying a barbecue, insurer RISA has revealed some of the most unusual, and downright bizarre, home insurance claims it has received in the past year.
I was bitten by a dragon
A man from Belfast angered his pet bearded dragon when he was cleaning his cage. The agitated reptile gave him a nasty bite, causing him to jump backwards and knock over his TV, resulting in a claim of almost £400.
Angry birds
Two magpies had a tiff in Kilmarnock which got so heated that they crashed through someone's conservatory window. Over £400-worth of damage was caused.
Fighting children
Another instance involved some classic sibling rivalry. In Motherwell, a brother got a bit peeved, took off his shoe and threw it at his sister. However, he went a little off-target, hitting the TV and racking up a £667 insurance bill in the process.
A barbequed goose
An ambitious man from Enfield tried to barbeque an entire goose. Instead of a bird worthy of Christmas dinner, the barbeque completely melted, leaving him with a piece of abstract art and a £400 claim.