The best places to ski off-piste (and how to make sure you're covered)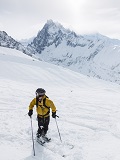 The term 'Off-piste skiing' covers a wide range of activities, and can often be mis-interpreted. At one seemingly innocent extreme, it can mean venturing away from the piste even by a few metres; at the other it can involve near-vertical descents of distant peaks by professional athletes. It can mean using the same skis and bindings you'd get for a day on the piste, or it could mean taking skins and touring to remote areas on specialised, light-weight equipment.
There's no doubt then that off-piste as a discipline is a broad church, so there should also be no surprise that there are many answers to the question: "Where's the best place to ski off-piste?" – everyone has their favourites for their particular level and flavour of 'off-piste' skiing.
There's also no doubt that off-piste skiing can be a dangerous pursuit. Just as the large number of interpretations of the words 'off-piste' can cloud exactly what you will be doing, it can also cloud whether or not you are covered by your insurance if accident does happen. You have to be sure that you're covered for the off-piste activity you will be doing and this is hugely important given the potential for life-threatening situations and the costs of resolving them.
We've picked a few of our favourite resorts for the best off-piste skiing below, and use them to illustrate the range of off-piste skiing that exists and the care that's needed to match your insurance accordingly.
Starting out – Laax

Laax sits in the south-east region of Switzerland and is best-known for being a freestyle hub, packing in excellent terrain parks and hosting the annual Burton European Open.

As a result, it is popular with freestyle skiers and boarders who are keen to hone their tricks. We're assuming you've dabbled next to the pistes as you can in any resort, but there's one feature of Laax that makes it a decent place to take your first proper steps into the off-piste – that is approximately 40km of marked, but unprepared off-piste runs.

These runs are within the patrol zone, so are checked first thing in the morning and are avalanche-controlled – it's still wise to take avalanche gear (transceiver, shovel, probe) and ski with care, but the risks are reduced versus skiing out of bounds and you can be confident that the route will end up at a lift, rather than stranding you in a distant valley.

The insurance angle: We'd recommend taking a guide or instructor for your first few attempts, but with accessible, patrolled terrain you may be tempted to go without them as you grow in confidence and ability. Insurers put restrictions on their policies according to whether you are skiing with a guide or not, and whether you are within resort boundaries. For these yellow runs in Laax, you'd need to ensure that your insurance covers off-piste skiing without a guide but within resort boundaries.

Topdoginsurance provide this type of insurance under their Winter Sports option.

Stepping up – Chamonix

Chamonix has long been known for its off-piste terrain with some claiming it to be the best in Europe. Some of it is not for the faint-hearted, so you'll have to choose wisely and make sure your experience is up to it.

Arguably the most famous route is that of the Vallee Blanche. It constitutes 2,000 vertical metres over 20 km of off-piste terrain including glaciers – it's a big day out with a complete loop taking in the region of 4-5 hours.

The entrance requires safety equipment and is not for those who fear heights and although this can be the most challenging part of the route, the remainder requires advanced intermediate skills to navigate. There are rich resources online, but if you are interested to hear more, we'd recommend starting with the British Moutnaineering Council who have helpfully dispelled some of the most common myths and offer some sound advice.

Given that the run takes place on a glacier, a guide is in our view necessary. Their knowledge of the terrain, the effects of the conditions on it, the local snowpack and importantly the crevasses lurking under the snow are all essential.

The insurance angle: the sign at the entrance says it all – you're taking the decision to ski in an area that is not patrolled. That means rescue is more difficult, safe routes are not clearly marked separate to dangerous ones and avalanche risks are not controlled with bombing. As a result, you'll need a policy that covers you to ski off-piste with a guide but outside resort boundaries.

You can get this cover is accessible through our off-piste skiing group – joining the group gives you access to a policy that covers off-piste skiing, within or beyond resort boundaries, as long as you are with a guide. The policy is available at a 10% discount for group members - you can also read more on how this works.

Going Big – Revelstoke

If even the Vallee Blanche feels a little too obvious, then you're probably ready to step away from the lift-accessed world. This means leaving behind the chairlifts and finding other ways to get up the mountain and leave the resort behind.

Whilst not the easiest place to get to, Revelstoke claims to be the only resort in the world that offers conventional resort skiing but also cat skiing, heli-skiing and touring all from one village base. This gives it a huge area of accessible terrain and combined with an equally huge snow-pack each year, it is the ideal place to branch out beyond the resort. Using a caterpillar vehicle, a helicopter or touring under your own steam, you can reach more remote parts of the mountain (or range of mountains!) without the crowds of the resort.

The insurance angle: whilst technically and literally you are still skiing off-piste, you will need to be careful with your cover, as most insurers consider ski-touring, cat-skiing and heli-skiing to be different activities to off-piste skiing. There are extra risks involved (e.g. accidents involving your vehicle or getting lost as you tour out into unmarked territory) and so they price for those extra risks. These are less-common forms of skiing and policy documentation can be unclear. If that's the case, don't assume you can argue the case if the insurer refuses cover later on – this will rarely work – call them in advance of buying the policy to check you're covered.

An insurer covering all these risks is Columbus Direct Travel Insurance – their winter sports and skiing policy includes cover for heli-skiing, cat-skiing and touring. It's worth noting that you need a professional guide with you for heli- and cat-skiing. In addition, there are optional extras you might want to include for full protection – for example, whilst medical evacuation is covered as standard, search-and-rescue expenses are not and could quickly add up if you are lost.
Want to know more?
Here are a few further resources to help, should you want to know more:
Above all, have a safe trip!